Hello world! My name is Ahana Kowdley and I am a freshman majoring in Chinese Culture and Linguistics and minoring in International Economics and Korean.
I enjoy learning different languages, baking, and traveling to different places around the world. Currently, I am actively learning Korean and Mandarin, which spurred my interest in entering diplomacy as a future profession. In my spare time, I love listening to Korean music and learning the raps and dances to the songs, and I am an avid Korean drama and anime watcher. I also enjoy writing books and putting them up on wattpad.com, and currently stand at around 29K reads on one of them. When time allows, I love burying my nose in fiction, fantasy, science fiction, and manga books.
In high school, I was president of the National Chinese Honor Society, Vice President of the Korean American Students Association, and the treasurer of our Gardening Club, allowing me to organize and participate in a variety of performances, festivals, and club activities. Now that I have been accepted into the Humanities Scholars Program, I look forward to making new friends and having exciting conversations with my fellow Scholars. I am also eager to continue learning languages and hope that college exposes me to new ways of thinking about diverse topics in classes. Also, I would love to seize opportunities singing and playing the trumpet. Overall, I hope that my college experience at UMBC will help narrow down my interests and propel me ahead in achieving my career goals.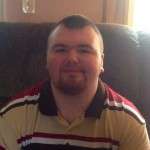 Hi! My name is Will Hutchins. I am a history major and a Humanities Scholar at UMBC. After one year at UMBC, I can honestly say that I have been blown away by the experiences I've had. When it came to classes during my first two semesters at UMBC, I concentrated on getting what remaining general education requirements I needed to fulfill out of the way. To knock out one of my science classes, I decided to take advantage of the First Year Seminar program, and I think I made the right decision in doing so. Instead of listening to lectures on biology or working through physics problems, I interpreted scientific quotes and wrote a poem about my own chemical element. And for a Humanities Scholar like myself, that was much more worthwhile than memorizing formulas or concepts just so I could pass an exam.
The classes I enjoyed the most were, of course, history classes! In three classes across two semesters, I learned about pre-modern Western civilization, colonial to Civil War era America, and what will likely be the most important tool as a history major: the history paper writing process. The aforementioned writing class was probably the most difficult class I've ever taken, but it has provided me with indispensable knowledge on the preparation for and creation of a history paper, and I can definitely see why it is a required course for all history majors.
My time in the Humanities Scholars Program has been very enjoyable and informative. Not only have I made new friends, I have been exposed to many different ideas and viewpoints I had not previously encountered. This exposure has been achieved through the humanities seminars and forums, but mostly through daily interactions with my fellow scholars. They have really opened my eyes to a lot of issues I wouldn't have known or cared about before, and I am grateful for that. That is what I like most about the program: the people I've met. Even though I missed the Humanities orientation because of knee surgery and I was the only commuter in our group this past year, they still made me feel welcome.
The last thing I would like to mention is the thing I'm looking forward to the most in the program: studying abroad. At the moment, I am dead set on travelling to Ireland to study at the National University of Ireland – Galway. This is because of two reasons. The first is (I'm being extremely honest here) the convenience of UMBC having such a close partnership with NIU Galway that will hopefully make the travel experience a bit smoother than it otherwise would. I have had rather mediocre to downright unpleasant experiences with previous trips to other countries, and I hope to avoid that by going to NIU Galway. The second and most important reason is the fact that Ireland is a place that is rich with history and mythology that I find fascinating, especially being of Irish descent.
That's it for now. I can't wait to see everyone again in the fall!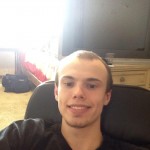 My name is Austen Edelenbos, and I am a student in UMBC's class of 2019. I'm pursuing a degree in history and considering a double major in French. On campus, I am an active member of the Humanities Scholars Senate and UMBC Democrats. I loved my first year at UMBC and learned a ton. My favorite class was History 201, which introduced me to the world of research. Taking that class greatly improved my writing and researching skills. I made a lot of great friends, most of all my three roommates, two of whom are also Humanities Scholars. UMBC challenged me and forced me to push myself much more than I had done throughout high school.
Being a Humanities Scholar was a phenomenal experience. We took two very interesting classes taught by four fantastic professors. On top of the classes, living on the Humanities LLC and going on many of the trips that the program hosts was very fun. Now that my first year is complete, I look forward to expanding my friendships, taking harder classes, and planning for my Study Abroad. I am planning on studying abroad in France, as I recently grew a love for the French language and I figure that the best way to learn it is to be immersed in their culture. I have no background in French and I've only taken two classes in it thus far (101&102), so I have quite the road ahead of me, but I look forward to every step of it. On top of learning the language, I have a huge interest in French history (particularly high medieval and Napoleonic France) and would love the chance to see the country and its many monuments and battlefields.
I'm Sage Burch.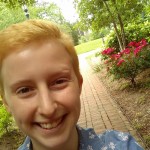 I'm majoring in global studies, international relations with a minor in professional writing. But I've been considering other majors/minors as well. I'm taking Japanese, and plan to study abroad in Japan. I've discovered a few things about UMBC: studying in the library RLC at duck is nice, you can ask for mayo when you buy a sandwich from Outtakes, there's a really nice elementary school you can volunteer at that you can get to by UMBC transit… Also, writing club is pretty great. I'll be the club's secretary this year. UMBC is its own vibrant world, and it is a great challenge that I love exploring. I think I'm starting to get the hang of it.
What I like most about the hum program is the community and the events on and off campus. There are many opportunities at UMBC, especially for a hum scholar: events, after-event dinners with the speaker, activities, a cohort. The Hum Senate plans the musicals we'll go see and the museums we'll attend. I make it a goal to go to as much as possible, to see as much as possible. It's exciting! And a lot better than sitting around doing homework all evening. What better way to take a break than to walk across a beautiful campus (although it could do with more trees, my gosh, whose idea was all this grass) and go to an event with tasty snacks, amazing speakers, and/or a movie?
I look forward to living on the hum floor for a second year with an amazing roommate, Callie. Right now I'm writing a short story about two witches, a purple dog, and a palm reading hermit-crab. My goal for the year is to finish it (finally) between essays, language study, and walks around campus. I'll also be working on interviewing professors to create short podcasts on what the humanities field of study means to different professors.
My name is Cliel Shdaimah. I'm a freshman who is part of the Humanities Scholars Program as well as the Honors College. My major is Gender and Women Studies, with a minor in Critical Sexuality, and working on something to connect those two to education. I enjoy creating art out of doodles, baking cookies, reading all kinds of books, writing scary short stories, and long discussions based on social justice and the equality of human value.
In high school, I was a member of the literary and art magazine, the Dolphin, and was the president of the GSA (Gay Straight Alliance) for two years. Outside of school, I worked at my Hebrew School and took art and drum lessons. This past year, I participated in a gap year program in Israel where I learned about the land and the people inhabiting the country. While there, I taught English to underprivileged students in a suburb of Tel Aviv and spent time volunteering in the an after school program run by an affiliated youth movement.
I am really looking forward to the tight-knit community of the Humanities program; it seems like a wonderful and challenging way to make a big school a little bit smaller. I'm excited to be living and learning with peers engaged in critical discussions about relevant and intriguing issues.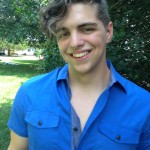 Hello, I am Caleb Campbell. This fall I will be entering my second year in the Humanities Scholars Program at UMBC. I am currently pursuing a double major in History and Political Science. I enjoyed an excellent first year at UMBC, full of many new experiences. I grew a lot in my writing and researching skills over my first year, while also making new friends and finding places to get involved on campus, whether it was the UMBC Debate team or UMBC CRU. I also did some volunteering at The Baltimore Animal Rescue and Care Shelter, taking care of the dogs. I was challenged both socially and academically my first year and I was quite satisfied with my time spent at UMBC. The campus offers a diverse array of political, social, economic, and religious backgrounds that combine to create a wonderful community and place to grow for students.
The Humanities Scholars Program offered a special experience for my first year. The seminars were very interesting, I loved the trips to the theater, and the Humanities LLC was a wonderful community of students. The community of scholars had to be my favorite part. I enjoyed meeting and forging friendships with such hard working and intelligent people. I had a great experience my first year in the Humanities Program and I look forward to my second year and planning for my study abroad.
Currently, I am leaning towards either the United Kingdom or France for my study abroad. I am very interested in the lives and cultures of both of these countries and I believe they also offer a deep well of history and politics to draw upon in my studies. Furthermore, I took several years of French and high school and took French 201 my second semester of last year, so I already have a basis in the language of both countries. Finally, on a simpler note, I have always wanted to travel to both of these countries and I would be thrilled at the opportunity to spend a semester in either country.
Ciao! I'm Jordan Thomi Crisler, a Linguistics major considering a double major in Psychology, from Bowie, Maryland. In high school I was involved in volunteer organizations including Junior Civitan, the environmental club, and the fundraising committee for the local Chuck Pacholkiw Memorial Scholarship, in addition to being president of poetry club. I hope to continue being involved in a variety of organizations during college, and branch out into activism. Outside of school, my favorite hobby is conlanging–the construction of artificial languages, much like Elvish, Klingon and Dothraki. I've created multiple languages from the ground up: sounds, grammar, and vocabulary. Víêda, te va se iáthi, e lús fhídu ánna rhidasé. (See, this is Iathi, a language I created.) And I love to read biographies, dystopians, and anything by Khaled Hosseini!
During my UMBC experience, I'm expecting to learn more about what I love and meet amazing people. As part of the Humanities Scholars Program, I'm looking forward to sharing my passion for the humanities with my fellow scholars and taking part in the Humanities forums–I can't wait to hear from the guest speakers. Oh and also the study abroad of course! I'm not sure where I'm going to go yet, but I'm sure it will be amazing!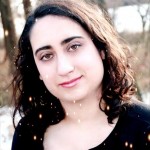 Hello, my name is Helena Wachhaus, but most people call me Nani, and I'm an English major with a minor in Ancient Studies. I'm a freelance writer with ten publications under my belt and I'm hoping to focus my Ancient Studies minor on a study of comparative mythology. So far, the classes and experiences that I've had at UMBC have been engaging, challenging, and have pushed me to perform well in all of my classes. It helps that all of the students at UMBC are extremely academically driven and put a lot of effort into completing homework and doing well in their classes. In the Humanities Seminar, we were tasked with conducting ethnographic interviews one semester and debating the works of economic philosophers the next. Both semesters forced me to step out of my comfort zone, because I am not much of a talker –understatement– and because the entirety of the field of economics is confusing.
On top of classes, I joined the staff of two different journals during my first year–Bartleby which is UMBC's Creative Arts Journal, and The Official SMITE Magazine– which has allowed me to gain experience, and amass numerous publications in the field of Literary Arts. Bartleby is teaching me how to critically read submissions while my work as a staff writer for The Official SMITE Magazine allows me to work on preparing my own creative work for publication; The Official SMITE Magazine combines both of my passions, writing and mythology, and drives me to expand my knowledge of different pantheons. Since Humanities Scholars all get a semester abroad, I'm hoping to go to a country known for their rich mythology. Currently I'm looking into programs possibly in Greece or New Zealand because each University in these countries would allow me to take courses that fall under both Literature and Ancient Studies while being immersed in the country's culture itself. For now, I'm going to focus on my writing and see where this year's classes will take me.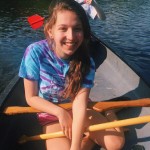 Hi, my name is Mairead Alexander and I'm entering my sophomore year in the Humanities Scholar Program at UMBC. I am currently pursuing a double major in English literature and music (violin performance), and so far I have taken lots of intriguing courses pertaining to my interests and have made many new friends along the way. As my choice of majors suggests, I spend a lot of my time playing violin and reading, although I also enjoy running, practicing yoga, crafting, and working with children. Over the past year, I began assistant teaching violin at Wolfe Street Academy, which is an elementary school located in Baltimore city, through the BRIDGES afterschool music program. Although often exhausting, this experience was incredibly fulfilling, and helped me to constantly learn by trial and error, while simultaneously breaking down the barriers of my comfort zone.
My favorite part of the Humanities Scholar Program has been either living on the LLC floor with a group of individuals who, although sharing similar interests, always bring new and interesting perspectives to discussions based on differing fields of study, or being offered numerous opportunities to attend forums, events, and lectures both on campus as well as in Baltimore city. These lectures spanned a wide range of topics, and served to broaden my horizons in specialized fields of study that I had next to no knowledge of prior. As for study abroad, I have so far managed to narrow my search down to Europe, although finalizing my choice of country is still in the process. However, I'm currently considering France, since I've taken high school and college French classes, and because it offers opportunities to study classical music.
Being a part of this program has opened up many exciting new doors for me as both a college student and an individual, and I'm looking forward to another fun and challenging year at UMBC!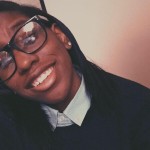 My name is Bianca Washington, and I'm double majoring in Africana Studies and Sociology. From attending UMBC I've been able to learn more about myself. UMBC truly prides itself on diversity and if you choose to embrace that aspect of UMBC you will have a great experience like I did. In my first year I was constantly learning new things, because there was no a single person in my circle of friends that shared the exact same interests as myself. I've learned that you will have a great time at UMBC if you take advantage of your opportunities. The more I do that the more interesting people I meet, and the more I learn about myself. At UMBC I've learned to try new things even if I had doubts about whether I would like them.
My experience in the Humanities Scholars program has been unforgettable thus far. I had no idea what to expect, but my experience surpassed any expectations I could have come up with. There was always some kind of forum or seminar happening which was great if I ever felt like I needed to step away from my academic work for an hour or two. My favorite part about the Scholars program altogether was the Humanities Seminar. It was a great change of pace from the big lecture classes that I had. I'm very excited to Study Abroad during my junior year at UMBC and I'm hoping to study abroad in a Spanish-speaking country hopefully in either Central America, or the Caribbean. I would want to study abroad in a country in those areas, because I get little tastes of their cultures in smaller parts of Baltimore, or DC and I would love to see it in its original form in its home country. I'm looking forward to another great year at UMBC with the Humanities Scholars program.
Hey, my name is Alex Armbruster, and I am a first year Humanities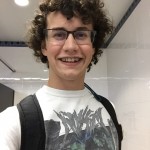 Scholar at UMBC. I have not yet decided on a major, but I am very interested in Interdisciplinary Studies. I really like eating black bean burgers, playing musical instruments, and walking my dog. In my free time I listen to a lot of loud, angry music and write sappy poems. I play drums for a band in real life, and also inside my head, 24/7. Recently, I have been reading a lot of zine literature on Baltimore development and permanently affordable housing policy. I also enjoy reading poetry of all kinds, except Edgar Allen Poe's, because I do not like his poetry. In high school I was the captain of our school's debate team, which taught me how to be very pretentious and take myself too seriously. I also pretended to be on stage crew because I thought the theater kids were cool, but none of the kids on construction wore deodorant so that did not last very long.
Concerning the Humanities Scholars Program, I am most excited to live on the Humanities floor and take classes with my fellow Hum Scholars. I am also looking forward to studying abroad, but I will miss my dog very much. If I could study abroad with my dog, college would be the perfect institution. I expect that my classes at UMBC will enable me to be more creative, and I am really excited for the experience!