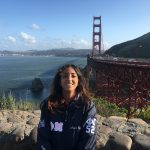 My name is Ahana Kowdley and I am pursuing a double major in Korean Language and Cultural Studies and Political Science with a minor in both Chinese and Spanish. So far, I have been enjoying my time thoroughly, both at UMBC and in the Humanities Scholars Program. In my first two years, I learned a lot about the importance of time management and the skills that go hand-in-hand with successfully completing work on time. I have also met lots of wonderful people in my classes and in the Humanities Scholars Program as well. The Program gave me a stable starting place to begin branching out in college and the friends I made in my cohort are some of my closest friends in college. The seminars have all been interesting and many of them have helped me in other classes or with research development skills, but my favorite parts of the Program are definitely the people and the Study Abroad opportunity.
Everyone in the Program is friendly and passionate about their fields of study in their own ways and it is always interesting to be able to learn from your peers as well as form deeper friendships with them. As for Study Abroad, I will be going to Sevilla in Fall 2017 to further my studies in International Politics and Spanish language. I am especially excited for the opportunity to study politics from a Eurocentric perspective to round out my approach to Politics, and for my five day excursion to Morocco where we get the opportunity to explore one of the oldest medieval cities in the world, Fez el-Bali, and to ride camels across the Sahara.
My excitement for study abroad aside, I am also extremely involved on campus and look forward to returning from abroad to continue my involvement in my sorority, Phi Mu, my a capella group, Taal-capella, and am excited to finish preparation for the first season of the UMBC Colorguard, where I will serve as co-captain. I am also ready to return to a new scope of internships and employment opportunities from the Program, as well as the constant encouragement to pursue my dreams of going into International Law and Law School, but that's all further down the road. For now, I'll try to slow down and enjoy the rest of my time in college, ¡Adios!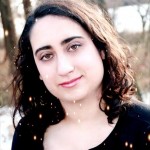 Hello, my name is Helena Wachhaus, but most people call me Nani. I'm an English major with a minor in Ancient Studies. I've always been curious about different mythologies and how those stories managed to survive throughout the ages. I'm a freelance writer with about twenty publications under my belt in a variety of different magazines. Despite this, I've managed to balance my writing responsibilities with my academic ones. So far, the classes and experiences that I've had at UMBC have been engaging, challenging, and have pushed me to perform well in all of my classes. It helps that all of the students at UMBC are extremely academically driven and put a lot of effort into completing homework. When everyone around you is studying and striving for success, it's hard not to follow suit. As for different experiences that I've had while in the humanities program, I've enjoyed the opportunity to go off-campus and see some incredibly well performed plays. Through the scholar's program, I was able to see Romeo and Juliet in DC; normally Romeo and Juliet is a tedious and overused play, but the production that we saw was incredible and I was unable to talk about anything else for a week.
Starting last fall, I was hired to write scripts for an adventure iPhone game. I started out writing little, 1500 word, side quests, but I was recently asked to start planning out a new plot for the main story to take. This comes with it's own host of challenges for me to tackle, but I have never been one to back down. Which is a true statement when it comes to my choice of study abroad experiences. I'm planning on spending my spring semester this year in New Zealand. Moving across the world for six months is a bit daunting, but the prospect of learning more about the Maori people and their history, something which I am extremely curious about, is what convinced me to go. Clearly, this year is going to be packed with new and exciting experiences for me and I'm looking forward to it.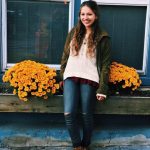 Hi, my name is Mairead Alexander and I'm entering my junior year in the Humanities Scholar Program at UMBC. I am currently pursuing a double major in English literature and music (violin performance), and so far I have taken lots of intriguing courses pertaining to my interests and have made many new friends along the way. As my choice of majors suggests, I spend the majority of my time playing violin and reading, although I also enjoy running, practicing yoga, crafting, and working with children. Over the past year, I regularly substitute taught violin and viola classes at various elementary schools in Baltimore City, such as Wolfe Street Academy, Baltimore Montessori, and Govans Elementary, through The Bridges Music Program. Although often exhausting, my experience as the official Bridges Music Program substitute teacher was incredibly fulfilling, and allowed me to work with with numerous classes of students and constantly learn by trial and error, while simultaneously breaking down the barriers of my comfort zone.
My experience as a Humanities Scholar has given me a feeling of belonging within the greater community of UMBC, while simultaneously presenting me with numerous opportunities to attend forums, events, and lectures both on campus as well as in Baltimore city. These forums span a wide range of topics, and have broadened my horizons in specialized fields of study that I had next to no knowledge of prior. In addition, I have also enjoyed participating in the discussions that take place after the lecture, where scholars have the opportunity to ask questions and gain a deeper and more thorough understanding of the lecture material. As for study abroad, I plan on applying to live and learn in either Belgium, or France, since I've taken high school and college French classes that would allow me to continue my study of the language, in addition to the exposure to the many opportunities to study classical music.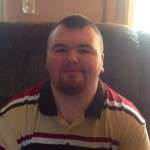 I'm Will Hutchins, a junior pursuing a major in history with a Spanish minor (soon to be second major). My experience across the first two years at UMBC has been steadily stellar: not much has changed, but I consider that to be a good thing. Now that I've gotten my general education requirements out of the way, I have begun to focus almost exclusively on my major(s), and I am very excited to delve into my preferred subjects as opposed to subjects that are…not so interesting. I'm sure many of my fellow scholars are feeling the same way. Speaking of my fellow scholars, they have been the highlight of the Humanities Scholars Program so far. Interacting with people from different communities and backgrounds in settings ranging from humanities forums to the dining hall has given me many memories and stories to tell. Overall, it has been a fun, informative, and eye-opening two years and I can't wait for that trend to continue.
One thing I'm sure prospective scholars would like to know about is classes. The classes have been challenging, but nothing that I haven't been able to handle (note that this is coming from a history/Spanish major, so this may not apply to others). Over the past two years, I have taken nine history classes and one Spanish class (I started at 302), and I have learned a lot of great stuff about pre-modern Western civilization, colonial and Civil War era America, East Asia, the period of Atlantic Revolutions, the Medieval Mediterranean, and colonial Latin America. While my favorite classes have been those covering colonial America and the American Revolution, the class I feel has been most important in my development as a history scholar—as well as the most difficult class I've ever taken—is History 201. This class essentially teaches history majors how to research and write about history, and I can definitely see why it is a required course for all history majors. As for the Spanish side, I'm about to really dig into it this year with two courses on my schedule for the Fall 2017 semester.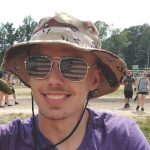 My name is Austen Edelenbos, and I am a student in UMBC's class of 2019. I'm pursuing a degree in history and considering minors in both French and International Affairs. I loved my first year at UMBC and learned a ton. I'm now a Maintenance Assistant, which is a great job that absorbs a lot of my time. My favorite class last year was French 202, with the phenomenal professor Landry Digeon (If you ever have the opportunity to take a class with him, DO IT). I made a lot of great friends, especially amongst my coworkers at Reslife.
Being a Humanities Scholar has been a phenomenal experience. We took two very interesting classes taught by four fantastic professors. On top of the classes, living on the Humanities LLC and going on many of the trips that the program hosts was very fun. Now that my second year is complete, I look forward to knocking out my required classes, continuing to make and build upon friendships, and taking concrete steps toward studying abroad. I am planning on studying abroad in France, as I've been improving my French language skills and can't wait to get closer to bilingualism. UMBC has a great staff that allows me to pursue my interests, whether those interests are French, history, or political science.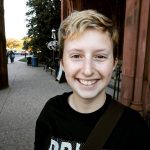 Hello all. I'm Sage Burch. I'm majoring in Global Studies, with a minor in Creative Writing and Asian Studies. I used to have more majors and minors, but I've decided to scale back to have room to take a wider variety of classes. I shoulda been an English Major, but the time has long past. I'm looking forward to all the English classes I'll be taking in place of the second major I dropped! I plan on enjoying my time here and taking advantage of all the resources at UMBC while I can. What about Grad School, though? And what happened to the story I was writing about two witches, a purple dog, and a palm reading hermit-crab? Who knows. See you around campus!
My name is Cliel Shdaimah. I'm a freshman who is part of the Humanities Scholars Program as well as the Honors College. My major is Gender and Women Studies, with a minor in Critical Sexuality, and working on something to connect those two to education. I enjoy creating art out of doodles, baking cookies, reading all kinds of books, writing scary short stories, and long discussions based on social justice and the equality of human value.
In high school, I was a member of the literary and art magazine, the Dolphin, and was the president of the GSA (Gay Straight Alliance) for two years. Outside of school, I worked at my Hebrew School and took art and drum lessons. This past year, I participated in a gap year program in Israel where I learned about the land and the people inhabiting the country. While there, I taught English to underprivileged students in a suburb of Tel Aviv and spent time volunteering in the an after school program run by an affiliated youth movement.
I am really looking forward to the tight-knit community of the Humanities program; it seems like a wonderful and challenging way to make a big school a little bit smaller. I'm excited to be living and learning with peers engaged in critical discussions about relevant and intriguing issues.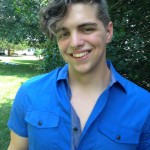 Hello, I am Caleb Campbell. This fall I will be entering my second year in the Humanities Scholars Program at UMBC. I am currently pursuing a double major in History and Political Science. I enjoyed an excellent first year at UMBC, full of many new experiences. I grew a lot in my writing and researching skills over my first year, while also making new friends and finding places to get involved on campus, whether it was the UMBC Debate team or UMBC CRU. I also did some volunteering at The Baltimore Animal Rescue and Care Shelter, taking care of the dogs. I was challenged both socially and academically my first year and I was quite satisfied with my time spent at UMBC. The campus offers a diverse array of political, social, economic, and religious backgrounds that combine to create a wonderful community and place to grow for students.
The Humanities Scholars Program offered a special experience for my first year. The seminars were very interesting, I loved the trips to the theater, and the Humanities LLC was a wonderful community of students. The community of scholars had to be my favorite part. I enjoyed meeting and forging friendships with such hard working and intelligent people. I had a great experience my first year in the Humanities Program and I look forward to my second year and planning for my study abroad.
Currently, I am leaning towards either the United Kingdom or France for my study abroad. I am very interested in the lives and cultures of both of these countries and I believe they also offer a deep well of history and politics to draw upon in my studies. Furthermore, I took several years of French and high school and took French 201 my second semester of last year, so I already have a basis in the language of both countries. Finally, on a simpler note, I have always wanted to travel to both of these countries and I would be thrilled at the opportunity to spend a semester in either country.
Ciao! I'm Jordan Thomi Crisler, a Linguistics major considering a double major in Psychology, from Bowie, Maryland. In high school I was involved in volunteer organizations including Junior Civitan, the environmental club, and the fundraising committee for the local Chuck Pacholkiw Memorial Scholarship, in addition to being president of poetry club. I hope to continue being involved in a variety of organizations during college, and branch out into activism. Outside of school, my favorite hobby is conlanging–the construction of artificial languages, much like Elvish, Klingon and Dothraki. I've created multiple languages from the ground up: sounds, grammar, and vocabulary. Víêda, te va se iáthi, e lús fhídu ánna rhidasé. (See, this is Iathi, a language I created.) And I love to read biographies, dystopians, and anything by Khaled Hosseini!
During my UMBC experience, I'm expecting to learn more about what I love and meet amazing people. As part of the Humanities Scholars Program, I'm looking forward to sharing my passion for the humanities with my fellow scholars and taking part in the Humanities forums–I can't wait to hear from the guest speakers. Oh and also the study abroad of course! I'm not sure where I'm going to go yet, but I'm sure it will be amazing!
Hey, my name is Alex Armbruster, and I am a first year Humanities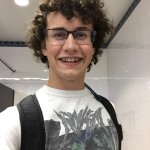 Scholar at UMBC. I have not yet decided on a major, but I am very interested in Interdisciplinary Studies. I really like eating black bean burgers, playing musical instruments, and walking my dog. In my free time I listen to a lot of loud, angry music and write sappy poems. I play drums for a band in real life, and also inside my head, 24/7. Recently, I have been reading a lot of zine literature on Baltimore development and permanently affordable housing policy. I also enjoy reading poetry of all kinds, except Edgar Allen Poe's, because I do not like his poetry. In high school I was the captain of our school's debate team, which taught me how to be very pretentious and take myself too seriously. I also pretended to be on stage crew because I thought the theater kids were cool, but none of the kids on construction wore deodorant so that did not last very long.
Concerning the Humanities Scholars Program, I am most excited to live on the Humanities floor and take classes with my fellow Hum Scholars. I am also looking forward to studying abroad, but I will miss my dog very much. If I could study abroad with my dog, college would be the perfect institution. I expect that my classes at UMBC will enable me to be more creative, and I am really excited for the experience!