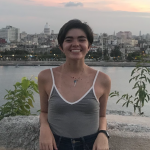 Hi!! My name is
Mikaila Donaldson
and I'm from Portland, Oregon. Here at UMBC, I'm a history major with a political science minor, and certificates in secondary social studies education and peace corps prep.
During my time at UMBC, I've tried to be as involved as possible and have been part of Res. Life, the Honors College, Phi Mu Fraternity for Women, and Global Brigades to name a few! I've definitely learned that being involved quickly is a great way to get to meet new people, especially coming from out-of-state. Speaking of being out-of-state, I had never been to Baltimore before coming to UMBC, but the opportunities for cultural engagement in and around the city through the Humanities program really helped me get to know this amazing place!! I've also been heavily involved in my education certificate. From my freshman year onwards, I've had a variety of wonderful experiences in middle school classrooms and am looking forward to my full-time internship this upcoming year. Education means a lot to me and my career goals include increasing students' access to quality education internationally and nationally.
Last year, I spent my summer studying international relations in Havana, Cuba and my fall studying European security studies in Stockholm, Sweden. I loved both of my very different experiences abroad and found that I could bring a lot of unique perspectives as an American, but also as someone interested in education and education policy. The focus on international experiences for Humanities scholars was definitely a draw for me in pursuing this program.
Having loved every minute of my time at UMBC, I'm sad for my time here to be ending, but beyond excited about making the most of my final year and seeing where post-grad life takes me!!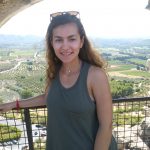 Hi my name is Lilly LaFemina and I am a rising senior here at UMBC. I am majoring in Media and Communications Studies with a minor in French. Something I have learned studying at UMBC is to take advantage of elective courses, as these allow you to explore interests outside of your major or minor. In my Sophomore year, I took a public policy elective that examined refugee and asylum laws and policies, and it ended up being one of my favorite classes.
Outside of Humanities, I am a member of the Honors College which has allowed me to meet some great people, supportive advisors, and engaging professors. I also serve as staff on the student newspaper, The Retriever, as a Production Assistant, where I am able to explore my passions for work beyond college. Last, I work on-campus with the Financial Aid Office which not only provides a convenient way to stay financially stable, but I also work with a team of great coworkers and bosses.
In Fall 2019, I studied in Lyon, France which I chose as a way to immerse myself in French culture. I especially loved my language classes where we were joined by international students from all over the world. I chose a language-intensive program which definitely helped improve my French, but it also meant that I had mandatory classes Monday through Friday. This made it more difficult (but not impossible) to plan weekend trips. I was still able to travel throughout France, Italy, and Switzerland. Living abroad in another culture and language can be challenging and uncomfortable, especially if you're more introverted like I am, but I definitely learned that I am way more capable than I think. It made me realize that being uncomfortable is not always a bad thing because it means you are pushing the boundaries of what you can achieve.
My name is
Anjali DasSarma
and I am majoring in Media and Communication Studies with a minor in Journalism. I am the 
Editor-in-Chief 
of The Retriever, as well as a Humanities Senator and a member of the Honors College. As a rising senior, I find myself gazing back at the past three years fondly. I've interned all over the Baltimore-Washington area, from my position as the Editorial Intern at 
The Baltimore Sun
 to being the Communications Intern at the United States Holocaust Memorial Museum to the Newseum, where I was a Media Intern. In the Fall of 2019, I had the time of my life studying abroad at the King's College of London, where I was a 
Study Abroad Ambassador
, chronicling my experiences in London during the immense Brexit decision. I reported about the 
Global Climate Strike
 in the center of the city, learned about art and history, and took film and communications courses at one of the top universities in the world. I also ate a lot of scones with clotted cream!
For the last year at 
The Retriever
, I have been the Opinions Editor. I absolutely adore journalism and will be pursuing a career in the field upon graduation. Over the past year, I have been the lead reporter on the 
COVID-19 crisis 
and the following university response. I have also covered the police and crime beat, written editorials and an obituary and covered music in the Baltimore/Washington area.
In my (limited) free time, I write poetry, play both electric and acoustic guitar, read a lot of news, eat a lot of bagels and drink a lot of coffee. I can't believe this is my last year at UMBC and entering the world at such a tumultuous time is something I think about often. But being a part of the Humanities Scholars and working with the faculty at UMBC, especially our advisor at The Retriever, has made me feel confident that I will be able to succeed beyond UMBC.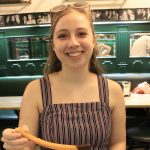 Hi, my name is Sophie Shippe. I am a senior double majoring in media and communication studies and psychology and minoring in French. I am grateful to be a part of this program because I had an incredible experience studying abroad in Aix-en-Provence France (although this picture is of me eating the best churros in Madrid– I was lucky enough to be able to travel) and have learned so much about media consumption, intersectionality, history, and other humanities by going to the seminars provided by the Dresher Center. Outside of the scholars' program and classes, I am involved in Environmental Task Force, Aikido, and I work as a Grit Guide in the Undergraduate Admissions office. Environmental Task Force is an Eco club in which we clean up trash in the green spaces on campus and in the surrounding area. Aikido is a form of Japanese self-defense, and the club offers free classes with a blackbelt sensei. Finally, I help with office tasks, answer phones and emails, and give tours as a Grit Guide. Being involved in these activities and the scholars' program has helped me find my best friends and have a very rewarding experience at UMBC! I will be sad to be leaving this program, my professors, and the groups I have found this year.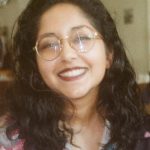 My name is Harini Narayan and I am an MLLI and Asian Studies double major. Through my studies and the Humanities Scholars program, I have discovered opportunities at UMBC which have enhanced my college experience. As a URA scholar and member of the MLLI Honors program, I am currently writing a thesis about the linkages between North Korean propaganda and U.S.-bilateral relations. Studying abroad in Singapore was also a wonderful chance for me to explore life outside the United States, which solidified my interest in working abroad after graduation. Outside of academics, I have been involved in community engagement through my work at the Women's Center and the Shriver Center, where I am a student coordinator for the UMBC volunteers servicing the Baltimore Animal Rescue and Care Shelter. In the upcoming year, I'm looking forward to getting more involved in my academic field and seeing what awaits me after my time at UMBC.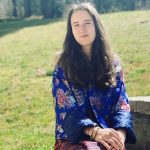 My name is Camille Blackford and I am a senior cultural anthropology major and Korean minor (and I am thinking about adding an Asian studies minor). When I got accepted into UMBC I took a tour of the campus to figure out whether or not I wanted to go here. After the tour, I actually did not really want to go to UMBC. However, after getting accepted into the Humanities Scholars program I chose UMBC. Deciding to go to UMBC was one of the best decisions I ever made. Here, I have really been able to spread my wings and grow. During elementary school and middle school I was constantly underestimated and was never given the opportunity to reach my full potential, but here at UMBC I have been able to push
myself and have been able to grow and learn more about myself and prove to myself that I can overcome any challenge. The anthropology and Korean departments here at UMBC especially helped me with this as they are constantly opening my eyes to new things and have really given me the space to learn and grow. The Humanities Scholars program has also provided me with space to grow. The Humanities seminars and off campus activities (like going to see plays, etc.) have also opened my eyes to new things and also allowed me to try new things that I wouldn't do on my own!
I have also been able to learn more about myself through all the clubs here. Since coming to UMBC, I have joined a variety of clubs as a way to meet new people and make new friends. I am currently involved in the Asian studies council of majors (I am currently the secretary of this club), Anthropology council of majors, Korean dance club and the Japanese student association. Joining these clubs gave me the perfect opportunity to meet new people, make new friends and memories that I will cherish forever. I have also gotten more involved in volunteer work since coming to UMBC as well. The Korean department here has allowed me to get more involved with the Korean community in Maryland through opportunities like volunteering at the Korean festival, which I have volunteered at every year since coming to UMBC, and by attending events like Hangul Day, a celebration of the creation of the Korean alphabet.
Last semester, I had the opportunity to visit Thailand for a few days and to study abroad in Bhutan. Since my senior year of high school, I have become fascinated with Bhutan, Bhutanese culture and the idea of "Gross National Happiness". When I joined the Humanities Scholars program, which encourages students to study abroad, I did not actually think there were study abroad programs for Bhutan until my friend handed me a flyer for a program in Bhutan. I chose the program because it was my dream to go to Bhutan and the program had planned trips all around the country. I also chose the program because of the brief time in Thailand where we would get to go sight-seeing because Thailand is also a country I have always wanted to go to. I loved visiting Thailand! It is a beautiful country with beautiful architecture, a fascinating history and culture and amazing food too!! Seriously, if you ever go to Thailand you have to try the street food it's amazing!! I also loved Bhutan. It is a beautiful country that also has a fascinating history and culture. While I did struggle with a bit of culture shock and home sickness, after a few weeks I had made some new friends and was really looking forward to the rest of my time in Bhutan. Unfortunately, right when I had settled in, I had to leave due to the corona virus. I was very upset at first, but I realized that there is nothing I could have done in this situation. So, I decided not to dwell too much on being upset and to just cherish my last few days in Bhutan and the friends and memories I made while I was there. Hopefully one day I will get to visit Bhutan again!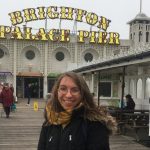 Hi everyone!! My name is Tess McRae, and I am a senior Humanities Scholar here at UMBC. I came in as an English Literature major and switched to the Language track at the end of my freshman year… but — plot twist! — this summer I made the decision to change my major to Individualized Studies (INDS) so I can build my own degree around creative expression and civic engagement. Unfortunately, this means that I will not graduate in Spring 2021 along with the other scholars in my cohort. That being said, I believe this decision will allow me to better pursue my passion, and I'm excited to see where it will lead me.
I love absolutely everything about being a Retriever, and I'm fortunate to have had so many experiences that have enabled me to connect with and co-create the UMBC community. During my time at UMBC I've served as the Director of Communications for the Student Government Association (SGA); a Graphic Designer for our design and print center, commonvision; a Peer Facilitator for Introduction to an Honors University (IHU) classes; a Poetry Editor for our campus literary journal, Bartleby; and the founding Secretary of the student organization Retriever Poets. However, the most impactful and rewarding experiences I've had on campus first took root in a Humanities Seminar my cohort participated in in Fall 2017 ("Public Humanities: Investigating and Practicing Engaged Scholarship"). The seminar helped to orient me to the democratic landscape of UMBC and planted the seeds for me to get involved in cultivating a civic culture on campus. By the end of my freshman year those seeds led me to UMBC's brand new Center for Democracy and Civic Life… and to make a long story short, September 2020 will mark two years since I started working there! As the Civic Design and Campus Engagement Intern, I get to utilize my passion for creative expression and the humanities as a means to foster an empowering community at UMBC. I've had the opportunity to develop, apply, and present our civic tools at national conferences; design graphics and visuals to communicate our philosophy at UMBC and beyond… and so much more. I'm deeply appreciative of every second I get to spend doing this work alongside my amazing colleagues.
In Spring 2020 I departed for a semester abroad at the University of Brighton in the gorgeous seaside town of Brighton, England. This was a huge leap for me — it was my first time traveling outside of the USA, my first time traveling independently, and my first time living anywhere else but at home with my family — and I struggled with intense homesickness and anxiety for months before I even left. Getting adjusted to life in Brighton was very hard, and it took a long time for me to find my footing. Then, just as I was finally feeling at home, the COVID-19 pandemic cut my semester short… and I had to scramble back to the USA 12 weeks earlier than expected. The entire experience was traumatic to say the least, but it was also profoundly transformative. I learned so much about myself and what I'm capable of, and the adventures I had and the relationships I developed there will continue to shape me for the rest of my life. I'm incredibly grateful for all of the growth my Brighton experience sparked in me, and I'm hopeful that I will be able to return one day on my own terms.
The Humanities Scholars Program has opened doors for me I never dreamed could open and led me down paths I never thought to follow, and I am all the better for it. The next chapters of my UMBC story hold many unknowns, but I'm looking forward to writing them with the help of the community I am so glad to call home.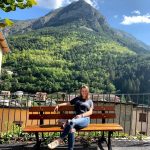 Hello, my name is Elizabeth Eakes! I am a senior Global Studies major with an Environmental Science minor, and I am also pursuing an Elementary Education Certificate and a French Certificate. Throughout my time so far at UMBC, I have been involved in various performing arts clubs and have worked for both the Honors College and the Undergraduate Admissions Office. During the 2018-19 academic year, I was the President of the UMBC Environmental Task Force, where I organized weekly clean up events and collaborated on environmental awareness efforts across campus. I also represented UMBC in 2019 at the Civic Learning and Democratic Engagement conference in Ft. Lauderdale, Florida.
For my study abroad experience, I lived on the sunny Mediterranean coast of Nice, in Southern France. Studying abroad for a full semester allowed me to deepen my knowledge of French language and culture, as well as complete independent research about Environmental education, awareness and activism on the Mediterranean coast of France. I was also lucky enough to travel throughout France and other European countries! Living abroad pushed me to learn about myself as I adapted to a new environment and lifestyle, and the experience challenged me in ways I did not expect. The Humanities Scholars Program has presented me many opportunities; it has encouraged me to discover the depths of the humanities, travel, and encounter fellow scholars who I would learn from and who would become some of my best friends.
Hello, it's a pleasure to make your acquaintance. Allow me to introduce myself: Sam Adebesin is the name, and being an unstoppable force in the humanities is my game. How can I sum up my time at UMBC thus far? I was once an English major so letting loose an eloquent message should be easy, but I'm at a loss. Let's start with what my majors currently are: I am pursuing two degrees. One is in Media and Communications Studies, which means that now when I watch hours of tv I notice things like camera angles and product placement. The other one is in Psychology, so I'm really close to figuring out why I'm like this. Now that I've reeled you in, you're probably wondering what I do in my free time. I'm delighted to inform you that sometimes I make noises in front of people, which is my special way of saying I'm a member of the Cleftomaniacs, one of UMBC's a cappella groups. For a few years I was paid (rather modestly) to tell people my thoughts as an opinions writer for The Retriever, our campus newspaper, but now I'm the Content Managing Editor. If you'd like to know what that means… me too. I'll let you know when I figure it out. What else, what else? I studied abroad in San Jose, Costa Rica in the fall of 2019. If you want to know more about it, I'll be more than happy to tell you. Too happy, in fact. Like, maybe I am the meme of the study abroad kid who won't shut up about it, happy. I'm kidding, I think. Another thing I do when I'm not making a fool of myself (I am the CLUMSIEST person btw), is be a human computer. Which really means I work at the Campus Information Center, so when Siri can't give you the answer, come find me. That's about it, don't want to bore you with more details of my life, I'm sure whoever is reading this is much more interesting. One last thing I'll say is that though I am graduating in the spring (fingers crossed) I have no idea what I'll be doing after that. Or maybe having too many ideas is the problem. Either way, if that's you too, don't worry about it. Some of the most beautiful flowers take a while to bloom. Alright that's my time, I can practically hear someone playing me off, so good luck to you, and if you took the time to read this far, you deserve a prize: If you're wondering where the guy who wore ironic t-shirts in high school ends up, hi! I'm him, he's me. See you later, crocodile, or however it goes.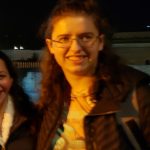 Hello, my name is Elizabeth Pastwa. I major in Political Science and German with a minor in International Relations. At UMBC, I have become involved in the university Hillel, which offers a welcoming Jewish community on campus, and the UMBC Moot Court team. Favored classes have typically been on Middle Eastern politics, as well as Doctor Hody's International Organizations class. The Humanities Scholars program offered fascinating lectures to attend through the Dresher Center and opportunities to experience local theater that I might not have otherwise been able to enjoy during my college experience. As mentioned, I am involved in the UMBC Moot Court team and the UMBC Hillel. Through Hillel, I was able to participate in the Shalom Hartman iEngage Winter Seminar in Jerusalem, and have had the opportunity and pleasure of joining the Shalom Hartman Institute's Gateway Fellowship program.
I was in Berlin for approximately one month on the IES Berlin International Relations and Security Studies program. Given my interest in security studies, the program seemed tailor-made to my interests within my field. While the program was cut short and I had to come home two months early, I did get to complete interesting classes on European Union politics and espionage remotely through IES.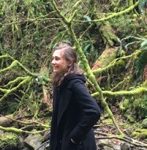 Hi friends! My name is
 Sarah Natterman!
 I'm a double major in MLLI Korean Language and Cultural Studies and Asian Studies with a certificate in Intercultural Communication. I am planning on graduating a semester early, this December 2020.
So far at UMBC I have been on the e-board for the Asian Studies Council of Majors, been a volunteer English teacher to Korean elders, and kept my love of dance alive as a choreographer. Research has also been a large part of my academic life. I have presented at URCAD on the evolution of contemporary Korean art and am in the process of completing a project as part of the MLLI Honors Program with funding from the Undergraduate Research Award. This project intends to discover how the political movements of 1980s South Korea have undergone various public commemorations in the present across various texts and what that means for South Korean culture across generations.
My fall and winter were spent on exchange at Seoul National University while doing intensive language training at their Korean Language Education Institute. While my time was cut short, the experience was life-changing and I wouldn't trade it for the world!
As I prepare for graduation, I am also obtaining a TEFL Certification with plans to apply to the EPIK Program in the hopes of making a speedy return to Korea. Although all of my plans have taken quite the massive turn in recent months, I look forward to meeting this challenge head-on and welcome the new challenges and growth that await.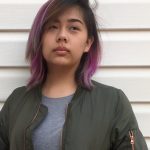 Hello! I'm Hope Mesngon. I am a major in Media and Communications major and plan to minor in Visual Arts. I've always had an interest in advertising and editing. My interest came about when I became the chief editor of my high school's Literary Magazine. Compiling separate literary pieces and artwork in a way that creates a cohesive magazine while having each piece stand out on its own was so fun for me. In my junior year of high school, I took part in my school's yearbook staff. It was a class that I always looked forward to because I was able to create something of my own, or rather something that belonged to my school, but of my own creation. Aside from editing, I loved taking AP Human Geography, Current Affairs, Ancient World History, and Sociology. I've always had an interest in studying societies and why they function the way they do, so learning about parallels between history and the present as well as how a society is affected by its location in the world is so fascinating. I find that learning these things is a great way to understand our changing society.
I love traveling. While I have never left the country, I have gone on road trips across America twice and I have also been to Guam to visit family. I can't wait to visit more places and experience new things. I also enjoy writing poetry and studying street fashion. At UMBC, I'm excited to take new classes that go more in depth into its subjects in comparison to high school classes. I plan on challenging myself to fill my free time by joining a lot of clubs and organizations that I normally wouldn't have joined. By being in the Humanities Scholars Program, I hope to engage in borough conversations in subjects regarding the humanities. I also look forward to traveling abroad and learning about different perspectives of the world.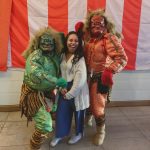 Hi! My name is Peri Johnson, I'm currently a senior at UMBC majoring in Asian Studies with minors in Japanese and Music Performance. When I first came to UMBC I didn't realize how much this school would offer me, but looking back I'm incredibly grateful and glad that I had the opportunity to come here. One thing that has always stuck with me about this school is how many resources and opportunities it offers its students. For instance, being able to continue my love of music and clarinet in the orchestra. Another being an internship I completed after finishing freshman year, in which I was able to go to Japan and teach English to students in Kanagawa. Not to mention my entire study abroad experience in Japan during my junior year. Studying Japan and Japanese culture has always been immensely important to me, and this school has always supported that. The abroad experiences aren't the only thing! From fantastic student organizations like ASCOM and JSA, to cultural events on campus, to the variety of courses taught by incredible professors, UMBC given me everything I had hoped for as a bright-eyed freshman years ago. While the future is unpredictable, I know that for me, I will find my way back to Japan, and what ever it is that I end up doing there, I know that my time at UMBC will have prepared me well. Thank you for a great undergraduate experience!