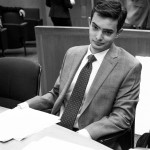 Hello, my name is Dylan Rogers Elliott, and I am entering my fourth and final year as an undergraduate at UMBC. It is all bitter sweet, because UMBC really has become a home to me and I have loved my time here. Over the last three years, I have been able to challenge myself academically, get involved in a multitude of ways around campus, and even study abroad. Last fall, I had the privilege of living and studying in the city of Newcastle-upon-Tyne in the United Kingdom. Studying abroad is a unique requirement for the Humanities Scholars Program and attending Newcastle University was a fantastic experience. However, I am definitely excited to see what my senior year is going to bring. In addition to pursuing my Bachelor of the Arts in History and minor certificate in Legal Policy, while at UMBC I have striven to be an active and involved community member, giving back to my UMBC family. This year will be no different as I am taking on a number of responsibilities, the biggest three being the presidency of UMBC's mock trial team, working as a Career Peer Advisor in the Career Center, and serving as the Arts, Humanities, and Social Sciences Editor of UMBC's undergraduate research journal, the UMBC Review.
As a four-year member of the Mock Trial team, I am thrilled to be able to serve the team I love as president. The past three years have been filled with success for UMBC Mock Trial, we advanced to the second round of the playoffs for the first time ever during my sophomore year and repeated that feat last season, and I am looking forward to continuing to build on that foundation. Likewise, this will be my third year as a Career Peer Advisor and I am looking forward to continuing to help fellow students prepare for internships, jobs, and graduate school. The editorship is a new, single year position, but I am already enjoying working with students by reviewing and editing their submissions to the Review. In addition to those involvements, I will be returning as the Senate-Chair for the Humanities Scholars Program Senate, serving as a team leader for the Honors College's freshman course, Honors Forum, and serving as the Assistant-Director for Student Advocacy in SGA's Department of Institutional Affairs and Student Advocacy.
When I am not busy with all of that, I am looking forward to everything else in between. Whether it is getting in some last intramural soccer games with my teammates on "Skiddlydoos F.C.", celebrating UMBC's 50th anniversary, or working through the harrowing process of applying to law school, I am excited for my fourth year at UMBC.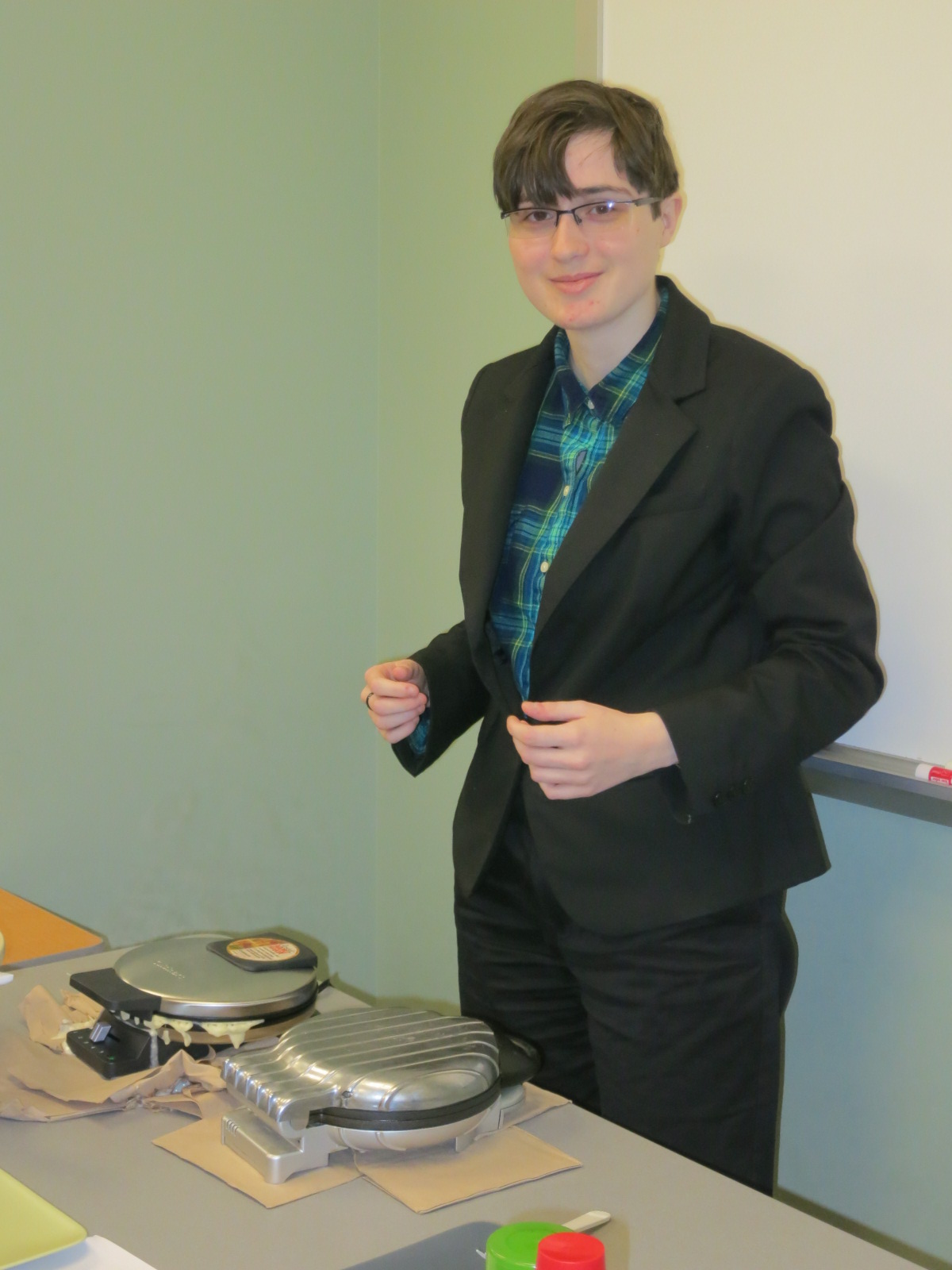 My name is Laura Sharp and I am a German major and a History minor here at UMBC. Coming to university at UMBC has helped me to better understand myself through interacting with others and making a few very good friends. I've found a close community within my identities and interests that has really helped support and shape me through my three years here. At this point in my degree I am happy in my choices of what to learn, the skills my degrees have taught me, and the things they have revealed about my personality. When I changed my minor, and when I had some doubts about succeeding in my major, the departments' faculty were ready and willing to talk, and especially with my doubts about my major, to share that they had had the same feelings of worrying about success when they had been in my situation.
The excursion trips to the theaters have been my favorite part of the Humanities Scholarship program, especially when we go to the Folger Theatre in DC. I never would have understood Shakespeare otherwise, or ever taken another look at his plays after being forced through them in high school English. It's also given me a wider appreciation of theater in general. I've also been on my mandated study abroad semester- in Kassel, Germany- which has been quite an experience, both academically and personally. It's hard to call the entire experience one of my favorite things, but it's definitely something that I wouldn't have otherwise done, and being in Europe for the spring/summer of 2016 has proven to be an interesting time to be abroad.
On campus, I'm involved with Spectrum and the Queer Student Advisory Committee (QSAC), formerly the Queer Student Council. As part of this Committee/Council, I worked on the Planning Committee of B'More Proud- the Baltimore area college student LGBTQIA+ summit- for 2015, as the Volunteer Recruitment and Management Chair.
I am 
Maggie Graham a Senior double majoring in anthropology and HAPP, public health track. Almost as soon as I started attending UMBC, I was given myriad opportunities. There were clubs to join and interesting classes to attend, seminars made available and other students to help me expand my horizons. As part of the Humanities Scholars, I was encouraged to connect with my fellow scholars to explore UMBC and all it has to offer. I think my favorite thing about the Humanities Scholars Program is the access it gives me to whatever I set out to do; I always have an advisor or older student who can mentor me through applications, and my own cohort to figure things out with for the first time. I'm especially looking forward to studying abroad this upcoming spring; I am hoping to go to India with MSID for many reasons, including that it offers a home-stay and that the second half of it actually includes an internship outside of the main city. In addition to the Humanities Scholars Program, I am involved in Global Brigades, which focuses on helping people in developing countries develop more comprehensive healthcare systems, and Alpha Sigma Alpha sorority, where I am the secretary.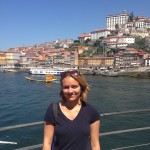 My name is Naomi Martinez, and I am double majoring in Modern Languages, Linguistics, and Intercultural Communication (Spanish) and Health Administration and Policy (Public Health). Through UMBC I've had the opportunity to learn from an incredibly diverse group of people. My job as a desk staff over the past two years has not only allowed me to interact with a wide range of the UMBC community and forge lasting relationships with them, but it has also helped me grow as a person.
The Humanities Scholars Program has provided me with so many opportunities that I wouldn't have experienced otherwise. From attending forums with guest lecturers to forming a small community with like-minded scholars through the humanities seminars, the Humanities Scholars Program has enriched my college experience and helped me grow as a student and as a person. The freshman seminar, while challenging, was extremely rewarding as it helped me improve my writing and analytical skills. Something else that drew me to the Humanities Scholars Program was the requirement to study abroad. I had always been interested in studying abroad during my college career, but being part of the Humanities Scholars Program provided me with the support that I needed to go through with it.
During the spring of my junior year I studied abroad in Valparaíso, Chile. Being a Spanish major, I primarily chose to go to Chile to improve my Spanish-speaking skills and earn credits towards my MLLI degree, and to also live and be immersed in a new culture. I was drawn to Chile because of
its incredible geographical diversity, ranging from mountains and oceans to deserts and glaciers, which is a paradise for any nature lover. While in Chile, I had the opportunity to travel extensively and to learn more from my host country, and myself, than I had ever thought possible. I am grateful that studying abroad was a requirement for the Humanities Scholars Program, because my experience in Chile was easily the highlight of my college career and one of the most invaluable experiences I've had so far in my life.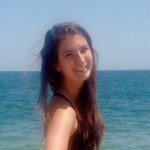 Hi, my name is Allison Feeney, and I am studying Financial Economics and American Studies. I chose to attend UMBC because I hoped it would provide me with a different type of community and experience than I had in high school – and it has! I have really enjoyed the diversity of UMBC, which is evident both in the material taught in the classroom and in my daily interactions with fellow students. The wide array of political and social views among students definitely enriches life on campus. Additionally, the freshman humanities seminars and lecture forums have greatly contributed to my diverse college experience by exposing me to new areas of academia and forcing me out of my comfort zone.
I am also a member of the UMBC Honors College, CRU, and Catholic Retrievers. In addition, I am a member of the Women's Club Lacrosse team and had the honor of serving as its President last year. By doing so, I have had the opportunity to make friends from different majors that I would not normally interact with in my classes. Plus I got to strengthen my leadership and administrative skills.
This past summer, I had the opportunity to intern with Textron as a Program Planning and Control intern. I supported the training programs that Textron conducts for the U.S. military in which soldiers are trained in how to operate the equipment Textron produces. In doing so, I was able to combine the knowledge I learned in my Financial Economics classes with topics discussed in my American Studies classes.
During fall 2015, I will be traveling across the pond to continue my studies in Galway, Ireland at the National University of Ireland. I chose Galway because I have a very strong Irish ancestry and it is a hub for big businesses due to multiple economic reasons, which will influence my economics and finance classes. I also look forward to experiencing the Irish culture and how it is different from American culture. Plus, it is such a beautiful place!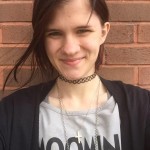 Hi, my name is Paula Beck, but most people call me Ela. I entered UMBC intending to be a Psychology and English double major, but after exploring the many opportunities available at UMBC, especially in the Humanities Scholars Program, I am happily double majoring in Media and Communication Studies and Visual Arts (Intermedia track). I am also passionate about learning languages and exploring other cultures, and I also have added a French minor. This past spring semester, with the help of the Humanities Scholars Program, I studied abroad at the University of Helsinki, in Finland, picking classes that focused on intercultural communication and mass media. The support of the many professors involved in the humanities here at UMBC has been immensely helpful and impacted my last two years at this university in the best ways. I especially love the interdisciplinary focus that the Humanities Scholars Program guides its students towards, giving us so many options for our futures, particularly people like me who aren't completely sure what we will do after completing our undergraduate education.
This upcoming year at UMBC I will be living on the Intercultural Living Exchange floor, a Living Learning Community for students interested in foreign languages and intercultural exchange. I am involved in the Comics and Other Media club on campus (COM) and am a member of Alpha Phi Omega, a co-ed service fraternity. Activities in the fraternity include both volunteer service and fellowship. I am also a senator for the Humanities Scholars Senate, where I help plan events within the Humanities Scholars Program. Outside of school activities, I love reading, mixed media art, photography, punk rock culture, metal music, Weimar film, and making new friends. My website is http://elenabeck.com/.