Josh Gehret
Ancient Studies and English Communications and Technology double major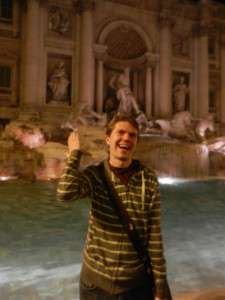 I studied at the American University of Rome and completed coursework in archaeology towards my Ancient Studies degree while abroad.
Living in Rome for nearly four months was incredible. I lived in an apartment with two other study abroad students (coincidentally, both were from Maryland) and a student who attended AUR full-time. Our apartment was south-west of the center city (on the other side of the Tiber), so it was exciting to live in a neighborhood well away from the hustle and bustle of the historic district. Getting to know the ladies in the local market and the gelateria workers near my apartment was an awesome aspect of living in local neighborhoods.
The apartment was about fifteen minutes from school (by bus or tram, depending on traffic), and maybe thirty minutes from the center city. AUR was great because every one of my classes was taught by professors hailing from Italy, Germany, England, and America respectively. All my classes (except for my Italian language class, and even then we had field trips to the grocery store from time to time to practice) were on-site, so we would meet at various sites in the city to talk about the monuments and their respective history. We would meet in museums, visit archaeology labs and archaeology digs (many of which were ongoing, so the archaeologists were making discoveries as the semester progressed), along with visiting the more famous archaeological sites like the Forum and Arch of Constantine.
It turned out that I was in Rome during two very pivotal moments in history, as well. There was a national election while I was there, which was wrapped in its own bit of scandal and the government ended up shutting down for a little bit while I was there. I was also there during the election process of Pope Francis. He actually picked a bad day to get elected, since I had three midterms the next day. But when we saw the white smoke coming out on TV we put our books down and went to St. Peter's Square (which was about forty-five minutes from our apartment. We ended up walking halfway there, because Rome's already messy public transportation system got ten times worse that night). Seeing the revelation of Pope Francis live and in person was one of the most memorable events of my life.
Of course, those were only the highlights. Being immersed in a culture as rich as Italy's had a major impact on both my intellectual development and my personal development. I learned to appreciate Italian food, and how to cook some of it. I learned more about not only ancient Rome but about medieval and modern Italy. Arriving in Italy with fledgling Italian and coming out able to communicate enough to accomplish daily tasks was an amazing experience. I returned with a deeper appreciation for my academic discipline, a foreign culture, and my ability to function independently, all while making some amazing Italian friends and forging unforgettable memories. I was published in a literary journal. I did field research on monuments. I saw breathtaking works of art. I still can't believe that I accomplished half of what I did in such a short time.
If you can, go study abroad. You will not regret any of it.