Molly Bradtke
English, History, and Asian Studies Triple Major
Chinese Language and Culture Minor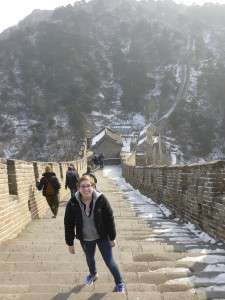 I studied abroad in China for eight months this past year, from January through August 2013. I've always been interested in Asian culture and languages, so when UMBC introduced its new Asian Studies Department my freshman year of college, I knew I'd found my niche. I started studying  Mandarin, and developed an interest in United States foreign policy in the Asia-Pacific region. When the time came for me to study abroad, I knew that my study abroad goals were to improve my Chinese language skills and learn more about the most populous country in the world that so abruptly rose to become the second largest economy.
I chose to attend an intensive language immersion program with CET Academic Programs for three terms: winter in Beijing followed by spring and summer terms in Harbin, a large city in China's North-East region. My program had a strict language pledge that required students to speak Chinese for the entire duration of the program – If a student was caught speaking English or any other language apart from Mandarin, they would have to return home. The language pledge, along with my classes which were all in Chinese and focused on language learning, meant that I was able to finish my Chinese language and culture minor while abroad. The improvement in my language skills is stunning to me. By the end of my time abroad I was able to write a ten page essay about contemporary Chinese foreign policy, using Chinese, where I couldn't even put together two sentences when I arrived.
Academically, I was able to learn an incredible amount about Chinese culture and history, and about the social and economic problems facing the country today. I was able to have frank discussions with my professors and my Chinese roommate about the Cultural Revolution, China's Open Door Policy, and the country's rapid economic rise. Personally, I had to learn to look at the world around me without the Western lens. In a place like China, where even in large cosmopolitan cities like Beijing, the culture is incredibly different from traditional Western concepts of culture, I learned to approach new situations without judgement. China is still a developing nation, so observing the lives around me and conversing with the people who live there every day (taxi drivers especially) was an eye opening experience. I had to learn patience and assertiveness, and gained confidence along the way. If I can present a thesis that I wrote in a foreign language to a panel of professors, or travel a foreign country by myself, then there's nothing that I should be too nervous to try.
Studying abroad was the most exciting, eye-opening, and educational eight months of my life to date, and I already have plans to return to China and travel to other areas of Asia in the next few years.  Everyone should seize the chance to go abroad when they can, even if it's only for a few weeks, and go with an open mind and the desire to learn something.