Now an HSP Alumna, De'Jia Long Hillie shares advice from her study abroad semester in Japan.
Study abroad is a fundamental required component of the Humanities scholars' education. The semester abroad usually takes place during the students' junior year at UMBC. In addition to taking classes in another country that meet their academic and professional goals, Humanities scholars benefit from immersing themselves in a different culture with a different set of values and perspectives.
Scholars begin to plan their study abroad in the second semester of their freshman year. After completing their freshmen year at UMBC, Humanities scholars begin preparing for the study-abroad experience during their sophomore year. The collaboration with both the Humanities Scholars Director, Timothy Phin, and the associate director of the Education Abroad Office, Caylie Middleton, is fundamental for students to select a study-abroad program that matches their academic and career goals. Scholars also interact with other students who have studied abroad and learn of the myriad of possibilities available to them. Click link to learn how to GET STARTED on your study abroad journey.
Upon returning from their study abroad, returning scholars share their academic and professional experiences in the country and program of their choice with other Humanities scholars during the Study Abroad day.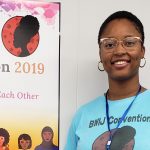 De`Jia Long Hillie attended the Black Women in Japan Convention 2019.
See her latest post from Nanzan University.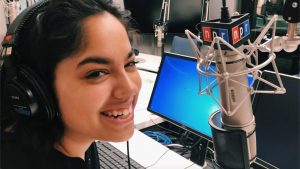 Humanities Scholar Anjali DasSarma is studied abroad in London. Read about her experience here.
Read about some of the Humanities Scholars' experiences abroad.