Dylan Elliott
History major and Legal Policy minor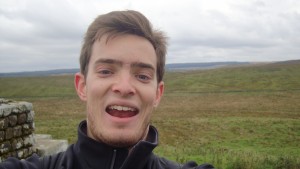 Hello from Newcastle, everyone! Since I was in elementary school the history of England has been a source of fascination and the temptation to see the places I have read about was too great to resist! Being in Newcastle I'm a few hours away from the south and London—the places people usually think of when they imagine England—but I'm quite happy where I am. Newcastle upon Tyne is a unique city with its own sense of beauty and the north-east as a whole is a great place to be. Don't think being in England is a cakewalk, however, just because they speak "English." The floor I live on is entirely international students and for many of them English is not their first language. "Home life" has given me a great multi-cultural experience. Additionally, the people of the north-east speak a regional dialect, Geordie. It's technically English, but if you ask a "Geordie" what they speak they'll say they Geordie, not English! I've gotten better at understanding it, but in the beginning it was quite the experience being caught between Geordie and the tongues of my fellow international students.
I've been taking three history modules (courses)—Anglo-Saxon History, British Politics 1870-2015, and The Criminal Atlantic in the 18th Century. All three of the courses should contribute to my History BA back at UMBC. All of three of these modules are helping me to hone my independent study skills. For all three modules the only graded work I will have is a single 3,000 word essay. I have to stay largely self motivated to get readings done ahead of my seminars. Of course, those readings will come in handy once I start writing my essays.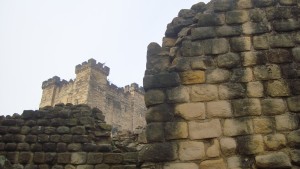 On a personal note, I've done a fair amount of travelling—but largely in the north-east. I've done my best to stay busy and get out to do something at least once a weekend. In October I hiked over 10 miles on a Saturday to visit two different Roman forts and the famous Hadrian's Wall. I've also travelled down to York, a beautiful historical city in its own right, and also made it to a number of castles throughout the north.
I've also gotten involved closer to home. Football (yes, true football) is essentially a religion in Newcastle and I've gotten to attend two Newcastle United matches, in addition to playing on two football teams. I'm also a member of the Newcastle University Debating Society, which meets once a week and gives me a chance to brush up on public speaking.
Finally, I'll say that Newcastle is a great place to live and study and I would truly recommend it. I didn't really think about it until after I got here, but I dropped myself into a foreign country knowing (quite literally) no one. It was a bit of challenge at first starting from scratch—meeting new people and so on—but it's been a wonderful experience so far and I'm looking forward to savo(u)ring my last month.