Melina Latona
Global Studies and Anthropology major with a minor in MLLI (Spanish)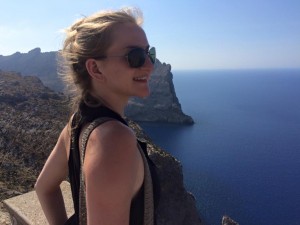 I was originally thinking of studying in Costa Rica, Peru, or Ecuador. I was seeking a rich and diverse cultural presence, and a Spanish intensive program that would include plenty out-of-the-classroom learning experiences. It wasn't until Dr. Souders recommended the SIT programs that Bolivia came to my reality. I was immediately drawn to Bolivia upon learning about its incredible geographic and cultural diversity, though I didn't truly understand that until arriving there. The title of the program alone had me hooked, it appeared to revolve around all of my passions and curiosities: Multiculturalism, Globalization, and Social Change. As it turns out, I could not have asked for anything more enriching.
We studied the countries colonial history and its roots in resource exploitation to better understand why the country that was once so rich, holding the world's largest silver source and hosting the third largest city in the world in the 1800s is now the poorest in South America. Analyzing different paradigms of development and different understandings of Vivir Bien, all of which add to my understanding of culture and community and the effects of globalization and development models on developing countries. Our classes were very nontraditional at times; lectures were given by important writers, social and political leaders, community activists, and government organizations, which gave us insight into multiple sides of the development debate in such a quickly rising country. I feel like I now have a very real context to think about ideas and concepts I have learned in global studies and anthropology classes, which was only augmented by what I learned during my studies in Bolivia. All of my classes were transferred as upper level electives towards my Global Studies, Anthropology, and Spanish degrees. Since the majority of the country does not host English speakers of the world, I was conversing and listening to Spanish all around me on a daily basis: I think I am finally fluent!
In terms of personal growth, I have come to be much more self-aware, self-forgiving and comfortable. I learned to attune to cultural differences and was happy to adjust my mannerisms and ways of living. I was able to observe and think about external forces of social change, and therefore recognize the importance of self-growth, and the idea that you must "be the change you want to see in the world" (a widely-known quote by Ghandi, but consistently reinforced by the multiple groups of collective resistance and autonomy who I met in Bolivia).
I highly recommend SIT (or the Bolivia program at least) to anyone who is seriously passionate about learning and broadening their understanding of the world, outside of their comfort zone. I hardly felt like I was in school; instead I felt that I was being lead on a journey of knowledge and growth with the help of fantastic directors, who have all kinds of connections everywhere we go. We also did independent study projects during our last month, which was the biggest challenge but also the biggest opportunity to test yourself and to follow what truly inspires you. It was truly a privilege to have this experience.