Caroline Davis
Linguistics major and Spanish and History minors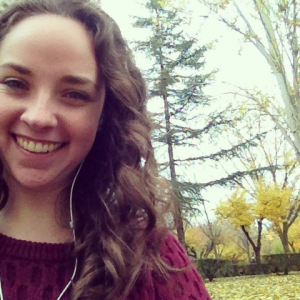 I chose to go to Salamanca, Spain, for a number of reasons. It was very important to me to chose a European city as my home base for my crazy, three month journey, because I wanted to be able to see all the Classic European Sites, not knowing when or if I'd have an opportunity to go back to Europe any time soon. Second of all, I wanted to go to a Spanish speaking place to use my language skills that I've been working on since I was nine years old. Salamanca, with a crazy and long history of its own, seemed like the perfect place for me. By attending classes at the University of Salamanca, the oldest university in Spain, I was able to complete all the remaining courses in my Spanish minor. I learned a great deal about Spanish culture, with an emphasis on Art History, Cinema, and Literature, as well as a great deal about the geography of the region.
I learned more about myself from my experiences studying abroad than I could have imagined. While those lessons weren't apparent to my during the trip, now that I've come home and put my new experience to practical use, it is obvious that my study abroad trip is the reason I am so independent and confident today. You think making a phone call is scary? Try doing it in a foreign language where you're not even sure if you've called the right phone number. Imagine making a mistake when your mom is 3600 miles away. Sure, it would be awesome if you could call your parents for help when you've missed your flight back from Paris, but your phone doesn't work in this country, and short of flying to Paris herself to get you home, mom can't do much. Which means you need to strap on your big girl boots and make it happen. Studying abroad is all about proving to yourself that you really can do it alone, and while it's nice to have someone else with you, you don't need them. Studying abroad teaches you how to harness the self sufficient power and confidence within you!