Allison Feeney
American Studies and Financial Economics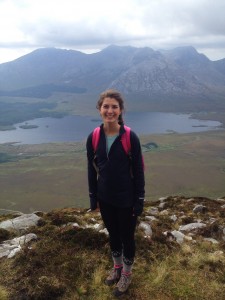 I've been living in Galway, Ireland for about two months now, and I love it here! I chose to study in Galway because the university (NUIG) offered many classes that satisfied the requirements for one of my majors, Economics. I also wanted to study in an English speaking country since it would make it easier for me to adjust to the culture.
Besides taking a few classes that are core requirements for my major, I am also taking an Irish Economics class. In this class, I've enjoyed learning about the economic history of a country other than America. I am also taking Health Economics, in which I am learning about the supply and demand for healthcare. It has been enlightening to be taught by someone living under a less privatized healthcare system.
The way the classes are conducted at NUIG is very different from what I am used to at UMBC. There is no homework, and some of my classes only have one exam or essay at the end of the semester. This teaching style has forced me to review my notes and do practice problems on my own initiative. As a result, I am growing in my ability to think through and grasp concepts by myself, a skill I know will come in handy later in life!
Besides going to class and studying, I have also done lots of traveling throughout Galway and other parts of Europe. I hiked in a couple different National Parks in Ireland, spent a weekend in Cork, and even went on weekend trips to Belgium and Paris!