Amanda Burns
English and Music major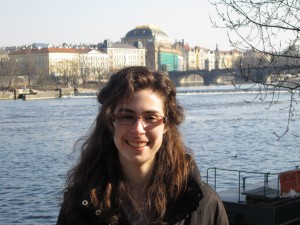 I wanted to study somewhere in Europe, but not necessarily at one of the most popular study-abroad destinations. It also appealed to me that the language spoken here, Czech, is not taught at most universities back in the United States. In addition, I had been told that Prague has one of the richest and oldest histories in Europe, not to mention it being one of the most beautiful cities.
I enjoyed studying courses designed for international students while also learning about authors I wouldn't have been exposed to in the United States. I am also learning Czech history and Czech, which is coming in very handy to live in Prague.
The other thing that is so neat is that in order to understand and study the literature, we also have to study Czech history. It's mind-boggling to realize that there is a whole other history (including literary history) that has never been mentioned or discussed in my previous education.  All my classes are in English (except my Czech Language Course) and transfer back as 300-level courses. Almost all of the students in my classes are American students. The two literature classes I am taking will count as electives toward my English major at UMBC. Although I have already fulfilled my language requirement at UMBC, I am taking Czech language in order to better communicate with locals.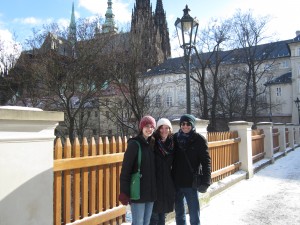 Amanda is very grateful for the study abroad opportunity because it has made her more adventurous. Living in the Czech Republic is allowing her to step out of her comfort zone and experience a lot more.  Although at the beginning Amanda found herself tempted to stick to one routine while abroad, Amanda decided to reach out more.
After I first got established, I noticed that I would go to the same cafes, take the same routes to school, etc. Once I realized how much I was limiting myself by doing this, I challenged myself to try something new each day. I don't always succeed, but when I do, I always end up having an unforgettable day.
In addition to living in Prague, she has "also had the chance to travel outside the Czech Republic to Vienna and Salzburg in Austria and Krakow, Poland." We are all looking forward to seeing those pictures next year!
Her final thoughts and advice on studying abroad…
It's really important to take advantage of every opportunity to participate in extra activities. Some of my best experiences here have been going out to various theatres in Prague. I have seen a Mozart opera, a symphony orchestra concert, and three ballets. Every week I volunteer to teach English for one hour at a Czech elementary school. I can't describe how fulfilling it is to make connections with the local people in Prague, and children are the best. They are so fascinated by people who are different from them and eager to learn new things.