Hello, I'm Maddy Pollack from Rockville, Maryland! I'm a History major with minors in Judaic Studies and Public History and I'm in theHonors College. I love to learn, and one of my favorite things about history is its interdisciplinary nature. My favorite part of being a Humanities Scholar is the opportunity for off-campus cultural experiences, and I highly recommend living on the hum floor if you have the chance! At school, I'm a member and officer of UMBC Hillel, and I'm also a member of UMBC Chabad and History Student Council. I give tours as a Grit Guide with the Office of Admissions, I'm a student archivist in the President's Office, and I'm an AssociateEditor for the UMBC Review, our undergraduate research journal. Outside of school, I'm an intern with NASA's History Office. In my free time, I like to read—a lot—and if I'm not doing that, I'm probably watching historical fiction shows and movies. I love being part of UMBC's community and I look forward to continuing my journey!
Hello, my name is Ava McCormick! I am a second year Global Studies major, and I am a part of the Honors College. I am interested in the anthropology, history and ancient studies programs at UMBC; as well as many other programs. It's difficult for me to choose a field because I am interested in a variety of things, which is why UMBC is great for me! At UMBC, it is easy to discover what you love, and there is room to change paths if you choose. I have been working to become fluent in Spanish for the past seven years, which I plan to continue to do at UMBC, along with the help of the study abroad programs. I have two pets, a dog named Honey and a cat named Yoshi. They are definitely, without a doubt, my entire world! I would love to travel more as I grow older, as well as expand my knowledge. I want to learn for the rest of my life.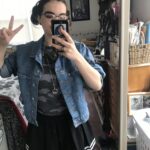 Hi there, my name is Amanda Evans and I am a second year Humanities Scholar. I am an Asian
Studies major with a specific focus on Korea. I am still trying to figure out my niche within
Asian Studies so I can extend my studies into an actual career, but we still got time for that. I really enjoy different languages and cultures and think it is really important to delve into cultures that are different from your own. In my free time, I will generally be listening to music, predominately K-pop, or watching various videos and shows in a variety of Asian languages. I also enjoy being creative and am into different forms of journaling. In school, I am part of KDC
(the K-pop Dance Club), even though I am not great at dancing, and also attend ASCOM (Asian
Studies Council of Majors) when I can. My first year as a Humanities Scholar was so much fun
with getting to know everyone and enjoying all of the off-campus excursions. Living on the LLC
definitely made all these experiences even better and introduced me to all of my friends. I can't
wait to see what this next year has to throw at us.
Hello! My name is Jessica Gonzales Portillo. I am a sophomore majoring in Psychology and Global Studies. Throughout my first year at UMBC, I have gone through a state of confusion about what I wanted to major in. Luckily, I found Global studies that had many different disciplines in one. With my Global studies major, I will be focusing on Cultural studies since I love learning about different traditions, art, architecture, language, literature, and history. With Psychology, I am fascinated by human behavior and the mind. I really love helping others whether they need advice or just to be listened to. At UMBC, I am a member of the Badminton club and the ABA Society. In the spring semester, I will be tutoring at the writing center. A little bit about me, I am El Salvadorian. I absolutely adore Bridgerton (show and books). I am a hopeless romantic. I enjoy watching criminal shows, reading/writing, taking hikes, hanging with friends, organizing (yes, you read right. Organizing), and fashion. I love UMBC, but what I love most is the friends I made as a Humanities scholar. I can't wait for what this year has to offer!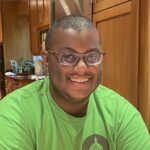 Hi, I'm Evan, I'm from Silver Spring, MD, and I'm a sophomore majoring in English. Since I've started at UMBC I've learned new ways to express my thoughts in writing and write engaging stories. I'm currently considering picking up a second major, but I've got no idea what subject I might choose. Being a Humanities Scholar has allowed me to learn new things about telling stories and cultures from different communities. I'm a part of the UMBC Esports Club and I'm a regular at their weekly Super Smash Bros. tournaments. In my free time I like playing video games (shocker) whether I'm grinding out Destiny 2, joking and messing around with my friends in Fortnite, or obsessing over Spider-Man: Miles Morales. My experiences from my summer internship has made it easier to decide what I want to do with my life and now I've realized some of my weaknesses that I've got to address ( i.e. public speaking). I'm excited to see what another school year at UMBC will bring me and I will make sure to make the most of it.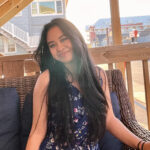 Hi there, I'm Rose Crame! I'm a sophomore in the humanities scholar program with a double major in Media and Communications and Political Science on the pre law track. At UMBC I'm heavily involved within the Filipino American Student Association, also known as FASA, as well as the Media and Communication Studies Council of Majors being graphic designer and public relations for both respectively. Beyond academics, I have an extensive amount of hours on The Sims 4, and a mini home library in the making! I love macarons, chocolate chip cookies, anything pink, and long video essays on Youtube. I'm excited for this upcoming sophomore year and I can't wait to see what it has in store.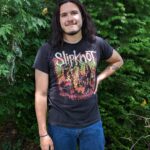 Hello! I'm Patrick Correal-Winters, a sophomore English/German double major. I'm originally from Florida, but moved to Ellicott City when I entered 7th grade. I'm a proud Colombian-American, with my dad having moved here from Bogota. By far my favorite part of being a member of the Humanities Scholars Program and LLC is the community it nurtures and the friends I've made from it. Outside of academic stuff, I'm a big fan of fantasy and sci fi, and a massive nerd for anything horror, cinematic or literature. I love MMA and wrestling, and am looking to rejoin the UMBC jujitsu club this coming semester. When it comes to my hobbies I love writing, playing bass, listening to punk and metal music and working out.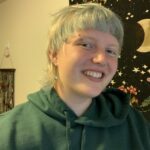 Hello, my name is Ruby Millen. I am from Ellicott City, Maryland, and am a sophomore majoring in Anthropology and Art History with a minor in Print Media. As an anthropology major, I spend much of my time writing research papers and reading ethnographies–I love doing both since I am a nerd. My art history major includes visual art classes which present me with creative challenges and balance out the research and reading I do. The introductory art courses I took as a freshman were so enjoyable that I decided to add a Print Media minor. I feel grateful that I have the opportunity to pursue more than one passion and am learning how they are interrelated. This year I aspire to get more involved in political action and social justice. I look forward to studying abroad as a junior and plan to do so in Prague. I have made great new friends through being a Humanities Scholar and living on the Humanities floor. I'm part of an amazing community.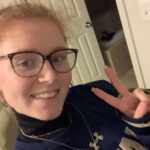 Hey! My name is Megan Gould (she/her) and I am from Howard County Maryland! I am a sophomore History & Ancient Studies double major. Research is my favorite part of the field and research/presentation projects are my favorites to work on. My favorite part of being in the Humanities Scholars Program is the wonderful community that I was (practically) immediately brought into. Combined with the LLC, I have found an amazing group of friends in my cohort and floor-mates as well as professors and older Hum Scholars I know I can go to for help. Outside of school I have really enjoyed going to the yoga and cycling classes at the RAC, as well as adjusting to working out in general on campus. I also love to read. Novels and comics, sci-fi, fantasy, contemporary, all of it! Fiction is clearly a favorite of mine, but honestly I have a library of all genres that is ever growing. I am so excited for the coming year and to meet everyone new coming in! I can't wait to see what lies ahead for everyone!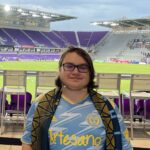 Hi! My name is Evan Royston and I am a second year Humanities scholar from Newark, Delaware. I am double majoring in history and political science with a minor in public history. History has been intriguing to me ever since elementary school. My interest in the subject really developed during high school when it became about the interconnectedness of people and events throughout time and seeing the effect of these events on the rest of the world rather than studying events by themselves. History and English have been my favorite subjects throughout my life and I enjoy writing and reading about almost everything. I was a part of my school's theatre department and Youth in Government delegation in high school which were two of my favorite activities. Some of my favorite activities include reading and swimming. I love to be around water whether it be a pool, ocean, or anything in between. I can also usually be found watching a soccer match or going to a game to see the action in person. I enjoy most sports but soccer is easily at the top of my list. Seeing shows on broadway is one of my favorite things to do and it's always exciting to me when I have the opportunity. At UMBC I am currently serving as secretary of the Model United Nations delegation and am also a member of the Maryland Student Legislature. My first semester on campus was a great experience filled with new friends and opportunities and I can't wait to see what new challenges and experiences await during my second year!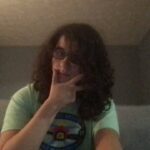 Hello my name is Grace Manning, and I live in Perry Hall, Maryland. I plan to study History and further my study into the Human Condition (aka humanity's eternal existential crisis). I got into history from the start of middle school and my hyper-fixation grew with the amount of historical videos I watched on youtube (Kraut is my favorite history youtube btw, he uses Polandballs. It's great.) I also eventually plan to study Chinese at UMBC and do a study abroad program in China or in Taiwan (3,000 years of history of an ongoing civilization and culture woohoo!). Outside of the classroom, I cook and bake, go to work (Taharka Brothers!), play video games (Sims 4, Horizon Zero Dawn, Celeste, etc), write chapters for my book and stay up till 3am on an internet rabbit hole. I am glad that the Humanities Scholars program gave me this wonderful opportunity to be in this program, I can't wait to meet you all this year!