Hello there! My name is Rose Crame, I'm a proud Filipina, and I use she/her pronouns! I'm looking to major in media and communications studies alongside political science with a minor in entrepreneurship. During my high school career, my favorite classes were Marketing, US History, and English – specifically literature! During those four years, I found myself in a multitude of organizations, from an international youth non-profit to the class council, our school democrats chapter, and future business leaders of America! In my free time, I can often be counted on to be watching chick flicks, watching movie costuming film analysis, or reliving a sense of nostalgia from watching kid shows and movies. But, of course, I can also be found just reading anything I can get my hands on. At UMBC, I'm looking forward to having a close-knit cohort that all share a love for the humanities as much as I do and being able to have a chance to study abroad! This program will definitely help me as a pre-law student, and I just can't wait to start my journey as a hum scholar.
Hi! My name is Ava McCormick. I plan to major in global studies at UMBC and eventually minor in Spanish. In high school, I participated in Key Club and Rho Kappa because I really enjoy working with people for the greater good — which I'll be continuing to do in college with the help of the humanities program. In high school, I took Spanish all the way to AP Spanish. I haven't gotten my score yet, but I'm excited to continue learning Spanish in college. I wish I could learn every language. In the future, I want to be able to be as fluent in Spanish as I can. I say as I can because there's no way you can know 100% of a language. With that being said, as long as I'm able to hold many conversations in Spanish, and even maintain friendships with people who only speak Spanish, I'll be happy with my fluency. I spend most of my free time with my family, my friends, and my dog. I love watching Netflix documentaries and docuseries. I also love visiting museums, no matter what they're for, like art, or about a certain time in history. I love it all. Above all, the best times that I have are with my friends and my family, no matter what we're doing. I try my best to constantly surround myself with people who care. Something exciting I've done in my life is traveling outside of the country with my family when I was younger, which created some of the best memories. I'm looking forward to so many things at UMBC's  Humanities Scholars program, including making new friends, finding myself, and of course learning new things with access to resources that'll help me put what I've learned into action. I'm really excited to see what the Humanities Scholars program holds for me and my peers — and the future we will all create.
Hola! My name is Jessica Gonzales Portillo. I am a proud El Salvadorian. I can fluently speak English, Spanish and took six years of French. I plan to double major in English and Psychology. Growing up, I always had my nose in a book. My bookshelf goes to the top of my ceiling! Not kidding. I adore the dark side of stories like Grimm's fairy tales or any type of thrillers. Since my love of reading grew, I dove headfirst into the world of writerly madness. My greatest accomplishment is taking a small clip of a dream and making it into a whole book. Because I enjoy English, History became my favorite subject to study. I love learning about British, Greek, French, and German history. Any mythology story interests me as it correlates with history and literature. With psychology, I am fascinated by human behavior and the mind. My caring nature loves helping others in need and knowing I had made a positive impact in a person's life.
During my high school years, I engaged in many extracurricular activities. I played soccer, ran track, and did cheerleading; I was in clubs for stage crew, ReLove, Student sharing, Model UN and Sign Language. I was honored to become an officer in French Club and be a member of the French, English and National Honor Societies. During my free time, I enjoy watching criminal shows, reading/writing, taking hikes, hanging with friends, organizing, and learning Calligraphy. At UMBC, I look forward to studying abroad and learning different traditions, art, architecture, language, literature, and history. In this program, I hope to share my passion for the Humanities and be in a loving, fun community! 🙂
Hello! My name is Megan Gould, and I am a freshman majoring in History with an Ancient Studies minor. Studying the past, different world cultures, and ancient civilizations has always been a passion of mine. I love looking at the ancient world to see how life has changed, what has evolved over time, and how mythologies are analyzed today. Because of this, it is unsurprising that my favorite subjects in school were Social Studies, History, and English. Outside of school, I was heavily involved with Girl Scouts, joining at the first rank of Daisy and recently finishing the last level of Ambassador. I've played soccer for 11 years; I played my entire high school career and did a recreational league in the off-season. I also occasionally participated in musical theatre through a summer program outside of school. I look forward to continuing both soccer and theatre in some way at UMBC. In my free time, I love reading and would definitely consider myself a bookworm. My favorite genre is Sci-Fi/Fantasy, but I enjoy many other genres, from mystery-thriller to contemporary-romance. I am also a huge comic-book fan, so Marvel and DC comics take up a good portion of my book collection. I love talking about the research class I took in high school. It gave me an exciting opportunity for an internship to help plan the HoCo Rainbow Conference my senior year. I am so excited to be attending UMBC and to be a part of the Humanities Scholars Program and Humanities LLC! In addition to the incredible opportunities for internship and studying abroad, the Humanities Scholars Program has shown such a welcoming community that I cannot wait to be a part of.
Hello! I'm Maddy Pollack from Rockville, Maryland, and I'm a History major with a minor in Judaic Studies. I love to learn, and growing up near the Smithsonian museums in downtown DC made me fall in love with the study of history. My favorite classes in high school all fall under the AP Social Studies umbrella, which probably comes as no surprise. As a humanities scholar, I'm most excited about going on my study abroad because I love to travel! In my free time, I like to read and watch historical fiction (I love a good period drama!!) and I love to play Monopoly and Catan. Some fun facts about me: I have eleven piercings in total. I've been to 44/50 states and hope to see them all before age 25, and I collect flat pennies everywhere I go. My go-to tv show (or book!) for binging is Outlander. My favorite soda is vanilla coke, especially when paired with gummy bears. I'm so looking forward to joining the UMBC community as the world begins to return to normal!
Hi there, my name is Amanda Evans and I'm an Asian Studies major. I will be focusing on Korean as my language of choice, but may choose to take other languages when I get the chance. I always get really excited whenever I am out and hear someone speaking a language that I am trying to learn. It's even better if I understand a bit of what they are saying. I've always excelled in school and I really enjoyed foreign language classes, especially when they delved into culture. I'm really into Asian pop culture, ranging from K-pop to anime and manga. Being into this type of pop culture opened my eyes to the many different cultures and languages of Asia and made me really interested in learning more about them. I really enjoy learning about new things because they help expand my knowledge even farther. While in high school, I was a part of the It's Academic team which really fueled my passion for learning even more. I hope to find more trivia-esque activities as I explore UMBC. I was also part of a book club and worked on the tech crew for many theater productions. In my free time, you can find me listening to music, predominantly in Korean, watching shows that come from languages ranging from Korean all the way to Thai, doing something artsy may it be painting or drawing, and generally obsessing over so many different things. I'm really looking forward to study abroad and all the many different experiences UMBC and the Humanities Scholars program has to offer. I'm an extremely introverted person, but I hope having a small cohort like the Humanities Scholars will allow me to make some new friends who enjoy similar things as I do.
Hi! My name is Evan Royston and I will be a double major in history and political science. History has been intriguing to me ever since elementary school. My interest in the subject really developed during high school when it became about the interconnectedness of people and events throughout time and seeing the effect of these events on the rest of the world rather than studying events by themselves. History and English have been my favorite subjects throughout my life and I enjoy writing and reading about almost everything. I was a part of my school's theatre department and Youth in Government delegation in high school which were two of my favorite activities. Some of my favorite activities include reading and swimming. I love to be around water whether it be a pool, ocean, or anything in between. I can also usually be found watching a soccer match or going to a game to see the action in person. Seeing shows on broadway is one of my favorite things to do and it's always exciting to me when I have the opportunity. I am so excited to be a part of the UMBC community as a humanities scholar this fall and I can't wait for all the new experiences, friendships, and opportunities that await on campus!
Hello! My name is Patrick Correal-Winters. I'm an English/Chem. Education double major and very excited to be a member of the 2025 Humanities Scholars Program. While I am a proud Colombian, with my father being from Bogota, my mother is my main inspiration in choosing majors. While she spent a long while teaching college-level theater, she has recently started teaching high school English at Baltimore's Carver Vocational School, and seeing the immense effect English education can have on young students has given me even more motivation to pursue teaching as a career in tandem with my innate love for literature and storytelling. As for my chemistry path, it's quite honestly as simple as I think the subject is neat, and would be another good position to teach. Beyond my majors, my favorite subjects to study by far are German and Japanese. I took the former for all 4 of my years at Centennial High School with the amazing Herr Daniel Desmond as my teacher. As for the latter, I have only taken 2 semesters of it (both of which were in quarantine), but those 2 semesters were all it took to completely cement itself as one of my favorite areas of study. Given my love for foreign languages, the part of the Humanities Scholars Program for which I find myself the most excited is the study abroad, although it will be hard to figure out which country I'd rather study in! With UMBC as a whole, I'm honestly most excited to connect with people from beyond the limited circles of high school. Beyond my academic interests, I love working out, hanging out with my friends, playing soccer, watching horror movies, long walks on the beach, and playing bass guitar, with the latter especially focussed around punk rock and metal styles.
Hello! My name is Ruby Millen and I use she/they pronouns. I am from Ellicott City, MD and like to spend time shopping in second-hand stores and drinking lattes in Old Ellicott City. I am majoring in Anthropology and planning to minor in Art. During high school, Art was my favorite class because it allowed me to express myself creatively and to calm down.  In my spare time, I worked as an after care teacher at a local private school. Between my job and being my family's oldest sibling and cousin, I have become comfortable with kids and am continually surprised and entertained by them. Due to my love for all the Humanities, I chose to major in Anthropology because it encompasses so many different topics. History has always enthralled me whether it be the study of ancient civilizations, or the modern era. Despite the fact that I rolled my eyes whenever my high school teachers asked if I would consider being a historian, I hope to become a historian and museum curator one day. I enjoy baking, though I find myself most often stress baking, playing with my dog, watching anime, and learning new art mediums. During quarantine, I shaved my head then dyed and cut my own hair with some help from my dad. I also discovered music and artists that I love such as Mitski, Gorillaz, and Willow. As a Humanities scholar, I look forward to studying abroad. I am especially looking forward to meeting my professors and fellow scholars.
Hi there, my name is Lesleigh Hilliard and I am an incoming freshman and Maryland native. Ever since I was small I've been fascinated by human culture and I was always the kid who managed to have an entire cart filled at the book fair, so it's only fitting for me to double major in Anthropology and English. Growing up so close to the capital helped cultivate my love for knowledge as it gave me unlimited access to amazing opportunities such as historic battlegrounds and the Smithsonians, where I eventually grew up to volunteer. From babysitting, to volunteering, to honors societies, to oratorical contests, and being a National History Day state competitor, I keep myself engaged and active during all times of the year. I have also been a life-long athlete participating in both team sports, such as field hockey and basketball, and individual sports, such as track and cross country, from a young age. When not playing a sport in school I was involved in the Creative Writing club and doing musical theater. A fun fact about me is that my original writing has won multiple Silver Keys and Honorable Mentions in the Scholastic Art & Writing competition. My favorite class I took was Yearbook where I was the senior editor of my school's award-winning yearbook program. It was wonderful to be a part of such a large collaborative project and I'm sure in the Humanities program I will find many more things to involve myself in like that. The UMBC Humanities Scholars Program has been so warm and welcoming to me, I can not wait to continue to grow as I share my passions with others.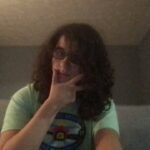 Hello my name is Grace Manning, and I live in Perry Hall, Maryland. I plan to study History and further my study into the Human Condition (aka humanity's eternal existential crisis). I got into history from the start of middle school and my hyper-fixation grew with the amount of historical videos I watched on youtube (Kraut is my favorite history youtube btw, he uses Polandballs. It's great.) I also eventually plan to study Chinese at UMBC and do a study abroad program in China or in Taiwan (3,000 years of history of an ongoing civilization and culture woohoo!). Outside of the classroom, I cook and bake, go to work (Taharka Brothers!), play video games (Sims 4, Horizon Zero Dawn, Celeste, etc), write chapters for my book and stay up till 3am on an internet rabbit hole. I am glad that the Humanities Scholars program gave me this wonderful opportunity to be in this program, I can't wait to meet you all this year!
Hello! My name is Evan Blakely
, and I am an English major. I chose English as a major because I enjoy writing about topics that I am passionate about and can relate to on a personal level. I use writing to express my stream of consciousness and I want to improve my writing skills so I can clearly and effectively express myself. In high school my favorite subjects were Latin, English and Math. I enjoyed Latin because learning new words was interesting and translating passages was like solving a puzzle. In my English classes my teachers would encourage me to allow my interests to influence my writing. I enjoyed Math because, for the most part, it was easy for me. I experimented with a variety of extracurricular activities in high school from fencing to rowing. While it was fun to try new things, the activities I stuck with had a heavy influence on my life. My main extracurricular activities were scouting and leading the gaming club at our school. In scouting, I made friends and had wonderful experiences such as sailing, camping on beaches, white-water rafting and working on my Eagle Scout project with my friends and troop leaders. The leadership skills I learned from scouting gave me the courage to establish a gaming club at my high school. Everyone was invited to play video games together and we occasionally held tournaments. I usually spend my free time listening to music or YouTube videos and playing video games or hanging out with my friends. What I'm most excited for at UMBC would be meeting new people and being more independent. For the Humanities Scholars Program, I am interested in traveling abroad in the future.