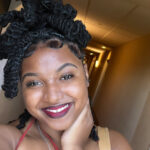 Hello! My name is Kendal Howell, and I'm from Prince George's County, Maryland! I am super excited to be a freshman at UMBC! I am double majoring in Africana Studies and Sociology. As a young business owner, I would like to further continue entrepreneurship and use the knowledge gained from these majors to continue serving my community. In high school, I played volleyball for all the in-person years and was a National French Honor Society member. In my free time, I love to do my hair, read about self-care, and hang out with friends. I also love to travel and am beyond excited to participate in the study abroad opportunities with the Humanities Scholars Program. Throughout my life, I've traveled to France, Switzerland, Italy, Montreal, and Quebec, and I hope to explore the world as much as possible. Experiencing different cultures and social climates have always been fascinating to me. I am fluent in French and would love to continue learning new languages.  I look forward to joining new clubs, especially the ASL club because I've always wanted to learn sign language. In the Humanities Scholars program, I am thrilled to meet more lovely people with similar interests and the research opportunities in the program.
Hello! My name is Jean-won Kim and I plan to major in Global Studies. Growing up, my favorite classes and extracurriculars revolved around world history, literature, and music. From jazz band to my international travels, I was amazed to see the way history manifested itself throughout different cultural mediums. With my Global Studies major, I hope to continue my passion for analyzing history through a more interdisciplinary and holistic tense!
In high school, I became more involved in music, branching out from my classical violin roots to playing in the jazz band and learning the guitar and piano. I also participated in the SGA, where I was a semifinalist for Maryland's U. S. Senate Youth program, played on the varsity golf team, where I was a finalist in the state championship, and participated in the National, Tri-M, Spanish, and English honors societies.
I am particularly interested in the study abroad program within the Humanities Scholar Program. As I first traveled internationally when I was thirteen to Spain for a language learning program, I have always had a love for cultural exchange and for experiencing new environments. Last year, I took a gap year where I traveled alone to Nepal, Sri Lanka, Indonesia, Korea, and Peru. From hiking in the Himalayas and Andes to receiving my 500-hour yoga teacher certification, I had a transformative year filled with many lessons and experiences I hope to utilize in college!
In my free time, I love to read, practice yoga, knit, watch films and TV shows, listen to and play music, go on hikes, and play with my cat, Jojo. I am very grateful and excited for the next four years in the Humanities scholar program.
Hello, My name is Dhruti Sheth. I am an incoming freshman here at UMBC in the Humanities Scholars Program. I will be double majoring in Psychology B.S. and MLLI One language track for Spanish with a minor in dance. I have always valued the importance of mental health and I want to be able to help those in need. I want to use Psychology to pursue a career as a therapist and I'm interested in learning Spanish to help those of other backgrounds as well. Dance has always been a very important part of my life and I want to continue my education in dance. My favorite class in high school was AP Human Geography which I took in 10th grade. It was a very interesting class and I learned a lot in that class. My favorite subject in high school was social studies classes. In high school, I was the soccer and softball captain and a member of the basketball and cheerleading team. I was also part of many clubs like SGA, Class of 2022 E-board, National Honor Society, and the Key club. My favorite activities were playing soccer and dancing for my company and my school. I also very much enjoy painting, exercising, and traveling/seeing new places. I'm very excited to start here at UMBC this fall. I am looking forward to meeting new people, making connections, and gaining valuable knowledge in all aspects of education. I'm also very excited to be a part of the Humanities Scholars Program and I'm very appreciative of all their help. In the Humanities Scholars Program, I'm looking forward to learning more in my field, getting great mentorship, and of course making treasured connections. Thank you so much for this opportunity!
Hello! My name is Austin Miller and I am a History major with an undecided minor. I used to hate social studies classes until I studied World History at the AP level which exposed me to content that wasn't Eurocentric. Learning about the world's culture as opposed to just America's opened my eyes and I found a passion for history, so much so that once I graduate, I plan to teach it. In high school, I was an avid musician. I played violin in orchestra all four years, dabbled in music production, and took a course on music theory. By far, my favorite experience was playing in the pit for my school's production of the Addam's Family. I'm also a creative author, focusing on fiction and poetry, and I've learned to love the editing process. Reworking a piece from scratch motivates me and reminds me to never give up. What I'm looking forward to at UMBC is making friends and learning in an environment that is best suited for me. The high school curriculum wasn't nearly as effective for me as it was for my peers, but being able to now take initiative and learn in the way that I want to means retaining information in a meaningful way. Specifically from the Humanities Scholars program, I look forward to learning about all different kinds of cultures, people, and history. I'm most excited to study abroad so that I can really dive into other parts of the world and come to appreciate them.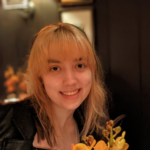 Hi! My name is Joan Steinly-Marks and I'm a freshman majoring in History and minoring in French! I'm considering doing a second minor in public history or Asian studies, it all depends on what I become the most interested in as I get opportunities to learn new things. I love learning about new cultures and places, and I want to get my Master's degree in Library Sciences. In high school, I was a member of the National Honor Society, Rho Kappa, and secretary of the French National Honor Society. In the past couple of years, I've also restarted piano and ice skating lessons, and have begun learning to play hockey. My room has been taken over by immense quantities of succulents, books, and cat fur from my 10/10 perfection kitty: Shayna Mabel. I like playing D&D, organizing, and doing random art projects. I'm looking forward to joining clubs at UMBC like Chew-MBC, the ASL club, the bonsai club, and many more. I'm also an admin for the UMBC hockey team. I'm incredibly excited to get involved with research projects at UMBC, as I'm considering becoming a research librarian. I'm debating between many places for my study abroad location(s), and I can't wait until I get to have that experience.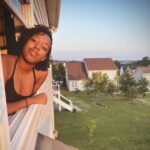 Hey, I'm
Aziza Mattaka
from Baltimore, Maryland! I am a Global Studies major. I chose Global Studies because I know that the diverse subjects within the program will allow me to fully explore and understand the issues facing societies around the world. I enjoy Anthropology, Psychology, and World History.
In high school I was in the Academy of Health Professions program where I learned a great deal of medical knowledge, but ultimately decided that I would pursue a major geared more towards the humanities. I was a member of Social Studies National Honor Society, National Honor Society & Latin Honor Society.
I was on a competitive dance team, competing in hip hop, lyrical and contemporary styles of dance. I enjoy music, people, nature, and all things Pinterest. In my free time you could probably find me on a walk, reading a Paulo Coelho book, watching a random youtube documentary, hooked on a new reality tv show, in an intense debate or on the dance floor.
I have always had very diverse friend groups throughout my life and really value celebrating and learning about different cultures.
I'm excited to finally explore my interests in the humanities, meet new people and connect to a new community through the Humanities Scholars Program. Thank you !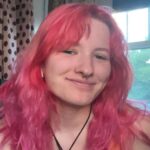 My name is Emma Oakes and I am a Biology and English major! I have always loved Science and writing, and it was so difficult to pick only one to study.
My favorite subjects in school were always English, Science, or Art. I was a Senior editor for my high school literary magazine, Synergy, along side some of my classmates in the literary arts prime.
My favorite activity in my free time is to crochet, draw on my iPad, or play games on my Switch (I am currently loving Dadish and Stardew Valley).
This year I am looking forward to spending more time with my new friends I made at orientation, meeting new people, and becoming more independent from my family. In the Humanities Scholars program, I am excited for study abroad and the little trips we will be taking out of state, as well as getting to know my other Humanities scholars!
My name is Chase Matthews. I am the son of Jamal and Keisha Berry. I was born in Washington, DC, and was an only child up to the age of 9 until my three sisters joined me. I am the big brother of Paige, Ava, and Jayce. I have always been a "family guy." I love my family, especially my grandparents, who have always had a special place in their hearts for me. I have always been a gifted student who enjoys reading. I have played sports since I was a young boy. While I have played many sports, baseball has alway been my favorite. My love for history grew, with National Geographic. I have served as the Business Team Lead for the Irrational Engineers Team 6239 Robotics Team for the last four years. In many ways, I have always been self-taught. I recently taught myself to take photos, which led to me winning a photo contest and being featured in the 2022 American Anthropological Association Annual Calendar. This summer, after for my last trip as a senior, I traveled to Dakar, Senegal, as a part of a learning experience and service project. At UMBC, I'll study Cultural Anthropology. I enter this next chapter of my life ready to take advantage of the many opportunities and professional connections UMBC and the Humanities Scholars Program offer. Go Retrievers!
Hello! My name is Andrew Coulbourne, and I'm from Chiba, Japan, of all places. I'm excited to be joining UMBC this year as a freshman, with plans to major in English along with an undecided minor or additional major! Ever since early middle school I've deeply enjoyed honing my knowledge of and skill in linguistics through my literature and composition classes, which is why I'm chasing the dream of being able to write for a living through my education here at UMBC.
I spend a good amount of my time creating, which I accomplish by writing fiction, poetry, and music, singing, and playing guitar. When I'm not creating, I'd probably be scratching my itch for inspiration by reading, listening to music, and playing video games. Though I wouldn't consider myself particularly good at any sports, I have also enjoyed playing volleyball, basketball, ultimate frisbee, and archery recreationally in the past.
As I mentioned briefly, I've lived in Japan for roughly fifteen of my eighteen years and am bilingual. I have been hired from time to time as a professional English/Japanese spontaneous translator for a variety of events. I've also played in a few temporary bands as an acoustic and bass guitarist as well as a percussionist, though I didn't manage to get paid for that so I can't claim the title of professional musician quite yet.
I'm looking forward to being able to meet my professors and fellow Humanities Scholars, and find my place in America! Go dogs!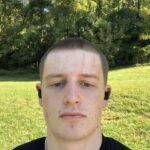 Hey, Retrievers! My name is Ethan Broadbent. I'm from Silver Spring, Maryland. I'm still deciding what I'd like to major in, but I'm leaning strongly towards majoring in English. I'm still looking into the possibility of another major (or double major). However, I'm strongly considering becoming an English major as I've always been keen on expressing myself through writing and interpreting the writing of others. There is a certain freedom in mastering the art of self-expression, which is a goal of mine. My high school career consisted of AP English courses that made me want to hate writing guts with its overly structured work and dry subjects. However, I still enjoy being able to take what's in my mind and articulate it to my desire on a piece of paper, so I think expressing myself through writing is something that is going to be sticking with me for the long run. My hobbies during high school consisted of running for my track & cross country team, playing club basketball & soccer, and being the writing editor of my high school's literary magazine. Recently you can catch me lifting weights, wrestling, listening to music, and becoming the best version of myself.
I am beyond excited about my future at UMBC. I'm looking forward to being a part of the wrestling club and the Honors College, meeting people I connect with (and that challenge me), and being a part of the Humanities Scholars Program! I chose to be a part of the program because it will challenge my perspective and beliefs and be an opportunity to grow.