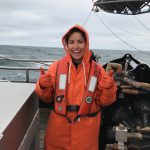 After getting my BA in 2008 in English Literature and a BS in Environmental Science as a Humanities Scholar and Honors College Member, I attended Duke University and got my PhD in Urban Stream Ecology. After that, my husband (also a UMBC '08 Humanities Scholar, Matt Poland!) and I moved out to Seattle, where I began working as a fisheries scientist with NOAA. I've been working with NOAA for almost 5 years, and I've really enjoyed it. I spend my time split between analyzing huge datasets on bycatch and fishing effort and considering how to apply the findings to management decisions so that our fisheries can be sustainable for generations. I've also gotten to go out and do fieldwork on survey vessels a few times, and learned about what fisheries and fisheries management actually looks like on the water. Recently I've found myself spearheading both diversity and inclusion and mentoring initiatives at the Center I work at, which is challenging but hugely rewarding and inspiring. UMBC definitely prepared me for where I am now in terms of my education but also in terms of my confidence to take on difficult tasks. I'm a VERY proud alum and regularly tell parents of high schoolers to check out UMBC.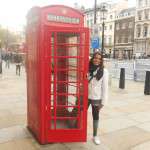 I graduated in May 2014 and the Humanities Scholars program was part of my cumulative UMBC experience to getting me where I am. I now work for Optimal Solutions Group, LLC as a Research Communications Analyst. I work with the communications department as the in-house editor and occasionally provide support to other projects as needed. For the communications department, I do prep work for proposals, edit reports and other kind of deliverables before they go to a client. I'm getting trained in the communications side to deal with external and internal communications.
I graduated in May 2013 with a double major in Media & Communication Studies and Environmental Science. I am president and captain of the Women's Ultimate Frisbee team, a campus Sustainability Intern, an inductee of Phi Beta Kappa, a member of the Honors College, and an on-campus employee in Event and Conference Services. I studied abroad in Botswana in the Fall of 2011 and that experience has cemented my interest in environmental education abroad. The HSP originally attracted me because of the promise of a huge diversity of classes and classmates, as well as the promise of study abroad. I love the HSP because it has forced me to gooutside of my comfort zone while also introducing me to a wide array of possibilities for my future.
I graduated in 2013 and plan to pursue a career in design, and hoping to do some social work after I graduate in the fall, but I wouldn't go so far as to say I know what I want to do in life! I've been studying in the arts and humanities for the past four years, playing lots of Ultimate Frisbee, and fostering a growing interest in botany.
One of the leading factors for me when I chose UMBC was how easily I could be involved in a variety of studies, and this was something I found to be especially strong with the Humanities Program. Over the last four year, being a Humanities Scholar has allowed me to expand and build on my interests. I've never been able to narrow down to something like one field of study, and with the Humanities I have always had many and changing options. The people and resources are of a variety I find unique to the program.
I studied Media and Communications and Psychology.  I'm attending the University of Maryland Francis King Carey School of Law. I chose the program simply because I was interested in the Humanities and I wanted to be connected with other like-minded individuals. However, since then, I feel the program has helped me grow as a scholar and a citizen. I appreciate how the program not only fosters a culture of academic excellence, but of active engagement outside of campus. I don't know of anyone who isn't involved with some truly amazing work.
I was a philosophy, history, and ancient studies triple major and graduated in May 2013. I was a member of the Honors College, and was on the ethics bowl team in 2013. I really enjoyed my time in the Humanities Scholars Program, I met so many wonderful people and had so many great experiences. I had a truly amazing time studying abroad in Wales, and have been able to learn and explore many fascinating ideas through the program. I'm attending graduate school to study philosophy.