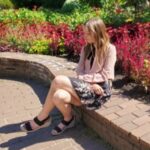 Hi! My name is Taylor Phelps and I'm a sophomore in the Humanities Scholars Program at UMBC. I still haven't settled on a major yet, but I'm hoping I will soon. Considering the unusual circumstances of 2020, I was limited in my opportunities to participate in campus life. I spent my freshman year adjusting to the growing responsibilities of becoming an adult and focusing on my classes. Despite the challenges that came with online learning, I enjoyed my classes at UMBC and felt that the professors and staff put a lot of effort into helping students succeed.
With life now returning to normal, I plan on living on campus and getting involved in more of the social aspects of student life. Although this gives me some anxiety, I am looking forward to the experiences I missed out on in 2020. I am thankful to be a part of the Humanities Scholars Program and know that UMBC will offer me the support I need to reach my goals. Here's to a normal year!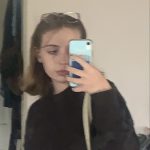 Hello! My name is Isabel Taylor and I'm a sophomore in the Humanities Scholars Program here at UMBC. I use she/her pronouns. I'm currently pursuing a major in English Literature, a minor in French, and an extended minor in Creative Writing. Despite COVID-19 disruptions to my freshman year, I was able to join the university newspaper, The Retriever Weekly. I worked first as a Columnist for Opinions before transitioning to the position of Head Opinions Editor for my second semester. Working on the paper has been an amazing opportunity for my writing and I've already gained so much valuable knowledge, especially from the other staff. I'm excited for the return to a full in-person campus this year and excited to meet the other members of my cohort through the trips we'll take together. As part of the program as well, I'm looking forward to narrowing down my study abroad choices. France is currently at the top of my list, but there are still so many options to choose from. On campus, I hope to explore more opportunities to write creatively, especially for poetry and short story writing. Although I really enjoy journalism, most of my larger career interests lie in creative writing. Through an introductory poetry class I took at the end of my freshman year, I've gotten a small glimpse into the talented writing community here at UMBC that I'll be ready to seek out when the fall semester swings into action. This year, I would also love to pursue some outside interests of mine, like music, by further exploring the Baltimore music scene that I've already begun to look into while growing up there. Ready for a great year!
Hello! My name is Sophia Possidente, and I'm a rising sophomore in the Humanities Scholars Program at UMBC. I'm currently majoring in Media & Communications with a minor in music. Unfortunately, Covid-19 made it difficult to get super involved on campus last year, so my resume is still pretty short. On the bright side, I made some great new friends by living on the Humanities LLC, and I finally narrowed down what subjects I want to major in. I'm planning my grand return to campus this fall, where I hope to be much more involved, especially within the arts. I'm most looking forward to taking classes in person, and (hopefully) being able to meet my fellow Hum Scholars in real life as well.
Hey, everyone! My name is Sarah Nove, and I am entering my second year at UMBC. As anyone who knows me will attest, I adore all things related to stories and storytelling. I am a strong believer in the power of stories as a tool to promote empathy and social change, which is why I am majoring in English. For most of my life, I wanted to be an archaeologist, as I love how archaeology provides pieces of the past that establish a larger story. I spent summer after summer attending, and later working at, a local archaeology camp, where I made many lifelong friends and formed much of my identity. However, a few years ago, I realized that archaeology was no longer my dream. Around the same time, I took a Journalism class and joined my school newspaper. Soon enough, the newspaper classroom became my home away from home, and I spent every possible minute there, writing and editing articles. My love for writing and editing has blossomed ever since, and I plan to pursue a career in the publishing industry.
Hiyo, it is me, Sydnee Conigland, a Computer Science and English double major. Now, I know what you're thinking: "What a weird combination!" Well, hold your horses, I have a grand plan of becoming a video game designer and writer (or editor). Therefore, besides simply growing in these passions, I believe these two majors will bring me closer to achieving that dream.
Regardless of the "circumstances" that plagued this past year, I loved my first year at UMBC and as a Humanities Scholar. I got to join and be a part of several clubs, those being: Bartleby, UMBC Gaming Club, Anime Society, and Game Developer's Club. And, well, I actually found online learning quite enjoyable. However, I cannot wait for when I am able to spend time with my fellow cohorts, in person, and do what we would do in the "normal times," like go on trips and have events. Now, the non-UMBC-related side of me loves to read (mostly) fiction novels, write stories, and play video games.
Hi all! My name is Natalie Guingrich and I am going into my second year at UMBC. I am a MLLI major concentrating in Russian. Though learning through COVID-19 was a very different experience last year, I was able to be a part of some really cool opportunities. I presented an academic paper at the Richard Macksey Undergraduate Research Symposium and at the Midwest Slavic Conference last spring. This coming year I hope to be able to Study Abroad in Prague and continue on with my degree!
Hey guys, my name is Dillon Nesteruk, but I also go by Dilldawg. I am Ukrainian and also a part of the Men's soccer team at UMBC. I am a media and communications major with minors in finance as well as entrepreneurship and innovation. My dream is to become a professional soccer player. If that doesn't work out, I desire to become a marketer for some sort of club or team that way I can still be connected to my passion: sports and competition. My free time is spent being active or helping out with my church. I particularly enjoy being a counselor during vacation bible school. That position provides a sense of leadership and responsibility, and on top of that you're dealing with a bunch of little kids which is a struggle on its own, for many reasons.  Something I would like to flex is all the opportunities to travel that I've been able to experience throughout my youth soccer career. I was able to travel to a variety of countries including Ukraine, Brazil, and England. And through these opportunities, I observed very different and unique cultures which not many can say they have done. I look forward to the Humanities program because of the travel abroad experience. I hope to visit a new country and observe a new culture to develop my understanding of different groups of people that exist on this beautiful planet.
Hello! My name is
Gina Khan
. I am currently planning to be a Global Studies and Psych double major with a minor in Korean language. I have always been a curious person, and I love to study subjects where there is always more and more you can learn and observe. I like to think of it like I stretched my curiosity as far as it could go and it encompassed both the earth and the rest of the universe. The inestimable benefits of understanding others are why I have chosen to study these areas. I am extremely passionate about linguistics because I believe in the rewarding qualities that understanding a foreign language has on the individual. Through learning language, one may come to understand a new culture and further consider their own; this allows one to relate and connect with a more diverse group of people and themselves on a deeper level!
I thoroughly enjoy subjects such as music, math, psychology, sociology, philosophy and language. I participated in many music-related extracurriculars in high school since I love to sing and play the violin. In my free time, I love to crochet, listen to music, sing, and study language. In 2019, I traveled to Prague on a choir performance tour with my school. It was so fascinating and beautiful to learn about the history and culture there. By traveling to a foreign country, I confirmed my strong passion for culture, language and exploration.
I am looking forward to being a Retriever and a Humanities Scholar because I am excited to learn more about myself and others in such a wonderful and diverse university! I am so excited to meet everyone and grow together!